I was wondering for a second opinion on my diagram. I tried to keep it very simple. Im using 4GA welding wire.
Cant wait to hear from you guys.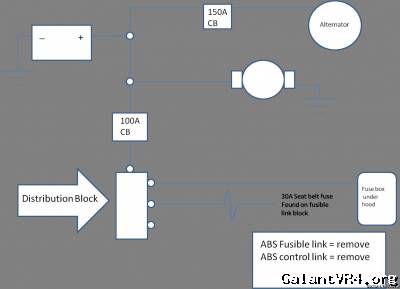 *Some key points:
Im getting rid of the alternator 80A fuse replacing with 150A circuit breaker.
Im hoping to connect power to the 12V constant that feeds the fuse box
Hoping I can make the fusible link "box" disappear.
Wont install cutoff until I find a good one and extra taillight.
Forgot to label starter, 2nd rung
Wondering if I should even bother fusing or putting a circuit breaker on the starter circuit.
Also wondering if I could use a place in the fuse box for the seat belt fuse, Im trying to figure out why Mitsu made it look so important on the fusible link box.
I am an electrical tech but I am not perfect.