Well, it's been a week, figured I'd start a little build thread. I've been at it pretty hot and heavy the last week; first "goal" is to get the car tagged and titled in TEXAS, and that means passing inspection (no emissions in my county though

).
All it really needed was the horn to work, or so I thought...
Here we are at the first moment of ownership:
And then 5 minutes into my 7 hour return trip to Texas my brake light comes on?? I call my brother who drove me out there, so we go to hop off the highway and NO BRAKES! That was an exciting off ramp... We pop the hood and look at the brake reservoir - empty. We did a few "emergency brakes" on the test drive and it was fine, so maybe it was just low. I fill it up and my bro pumps the brakes and the res drops 1/8th an inch every pump - oh boy...
The culprit - rear pass brake line:
So we gave it the old Waffle House parking lot fixer-er-up and drove on:
We made it to Little Rock and grabbed a brake line at the parts store. Out of all the tools we brought, line wrenches weren't on the list. The car was driving fine, brakes were working when I needed them and The last thing I wanted was to round off line nuts half way through a replacement and be really stuck, so we drove on again, cautiously...
Many hours later, I pulled it into my driveway!
I hugged my wife, ate dinner, and then set out to replace the brake line with proper tools, and wouldn't you know it, the lines came apart super easy, although the replacement line was a tiny bit too short, I won't reach the top mount: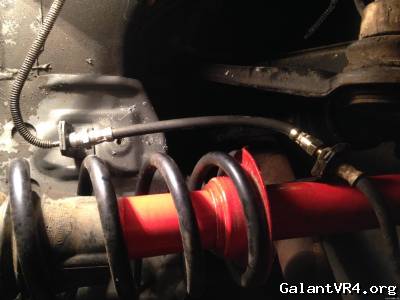 Oh well, it'll pass inspection and drive fine, I'll just have to add SS braided brake lines to the list