For those of you who dont know, My name is Drew, I live and work in western Ma and I love my Summit white VR4. I have been in the Galant scene for just over a year now, have been learning a bunch and just doing what we all love to do.
I had just put my third motor in 1942 for this year. When I had purchase the car from a board member here, the motor was said to be rebuilt 30,000 miles before but it was evident that the statement was false when I pulled the head off, found deep scratches in the cylinder walls of all 4 bores.
This is the picture in the fs thread, of the engine bay.
I didnt really give a $#!% because I know how people are and do those things. But it was fine, That night I drove to my friends house and picked up a stock block off his garage floor with perfect cross hatches 120k on the motor that was drivin buy a grandma. stock stock stock
Put everything back together, bs delete, gates t-belt, mounted the afpr, -6 fuel lines, custom non-abs lines, 90' oil cooler, 4 bolt rear end, poly motor mounts, and on.. Cleaned up the fire wall did a bit of a wire tuck and she came out more sexy than before.
With the Galant at its best since I've owend her, It was time for a winter hibernation. But I didnt think thatit would come at the expence of my stock block

December 10th I lost my stock motor to my own newb self

I left the majority of water in my cooling system and froze her tight.
Horizontial crack in cyl.1 directly next to the water pump.
The motor was out of the bay that night and on a stand defrosting ahaha. srsly
Well since then I took the Original block and had got it built.
I went with:
.020 over Nippon 2g pistons 8.5:1
ACL Rod and Main bearings
Frankinstein Referbished 1g connecting rods
OEM Main studs
ARP Rod bolts
The motor came out great, and I am very pleased with the turnout.
Did all the nessesary shit to get her off the engine stand and into the car.
Also picked up a few more goodies to throw ontop of my build as it continues along.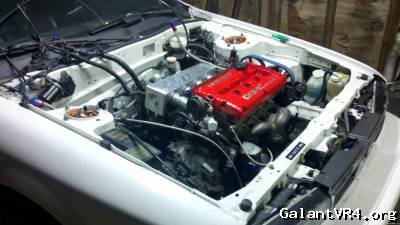 I dont like to concider myself part of the JSB crew, so I try and keep it on the ground as much as possible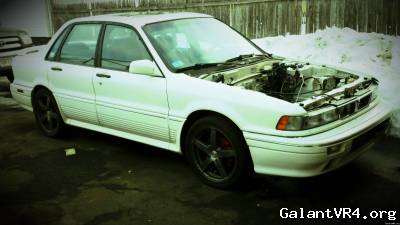 These are just a few photos I have at the moment that are in good quality, I will be posting my mod list soon and along with more photos of the build, some time slips ect ect.
I hope you guys enjoy