So, car now idles and drives low rpm pretty well.
However, 02 sensor not cycling. I have a new one, but figured I would go do one log to see if it would start cycling?
I logged a part throttle run through some gears. Can anyone take a look at the log if I email it to you and see what you think?
I will take a snapshot of a few rows as an example and post here.
Its been a while since I've viewed any log on the GVR4, but it doesn't look like some values are correct. You can see by the airflow hz that it started making PSI around 4250, but hz stops at 1600, so my keydiver chip did not bump the hz logable through the ECU then I take it?
Are all the values being effected by my O2 sensor not reading? I will swap it out and put the BISS back to where the ISC is at 30 steps at idle for next time. What else can I start logging in Tuner Pro that will help?
Sorry, maybe this should go in the newbie post.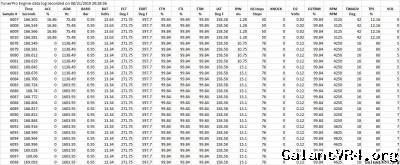 -PJ