White eterna grill that I bought from Jeremy:
Jeremy's Grill
Stock grill that I would paint black: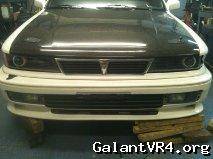 Keep in mind that the bumper is being repainted to match the rest of the car. The headlights are blacked out so I'm not sure if the white grill would look good. I like how the horizontal slats on the stock grill match the JDM bumper. Thoughts? I have to pick before the weekends out to get it painted.