This is a confirmed fit for the dohc 6 bolt: Part#21310-33142 it's for a 92-95 hyundai sonata
This is from the 89-91 2.4l: Part#622-0056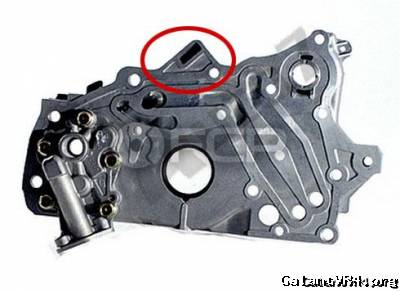 It has a little tab at the top circled. It may get caught under the tensioner arm on the dohc setup. Is that the only difference? If you notice the factory pump cover gasket actually extends up where this tab is at the top, so I imagine there would be a clearance issue seeing how the casting was changed presumed for the dohc cars. If thats the only difference I have no problem cutting it off.
In
this
thread it says there different then the same... not sure why they would be different.
I got my ACL/Orbit front case in the mail... Lets just say I'm not impressed.
not the best picture but there's a huge hangnail chunk of aluminum ready to fall off. with quality control like that I don't want to trust it. Id be better off spending $100 less on an itm or dnj pump.