I doubt anyone will come after this thing given my location, but it doens't hurt try.
90 awd talon shell. black and grey. I can't remember all the specfics, but it almost just needs an engine/trans with turbo/IC and all to run. IN other words, it's still pretty complete.
It has a 255 in tank(not rewired) autometer egt on the pillar. Faze(I think) boost gauge in the dash, I got the car this way. A blitz turbo timer, sony radio, and some aftermarket speakers. Will include a 2.5 in catback. I have a down pipe, but the flex section came apart on the inside and restricts the exhaust. I will include a radiator. Still just 3 bolt rear end and the 90-91 front brakes. DOES have a 91+ shifter and cables. I think it has factory struts with sprint springs. It has an eprom ecu with a socket. almost all the interior is still there, no headliner. Has Wes Hess's old fiberglass hood off his maroon race car. Will have the oil cooler and lines still mounted, but not a 90 model oil filter housing.
I have a NM title, and I'm pretty sure it's clean. I don't remember. I'm sure I forgot some stuff.
Thanks,
Ben Moss 806-441-3243
Might make a deal to include that SBR large IC with gm maf/translator and apexi bov.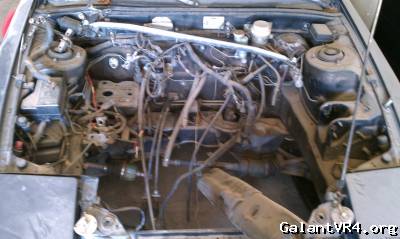 covered in dust.