Here I have my 1991 Galant VR-4 for sale. It is basically an evo before the evo was released. It is AWD Turbo and has Four wheel Steering. I got the car about 4 months ago from Glides and he got it from 1439/2000. These cars are very rare with only 3009 of them ever shipped to America with 3000 of them being badged. 2k in 1991 and 1k in 1992. There's no telling out of those 3000 how many have been wrecked or crushed.
Pictures:
Has the aerocatch flush mount hood pins instead now.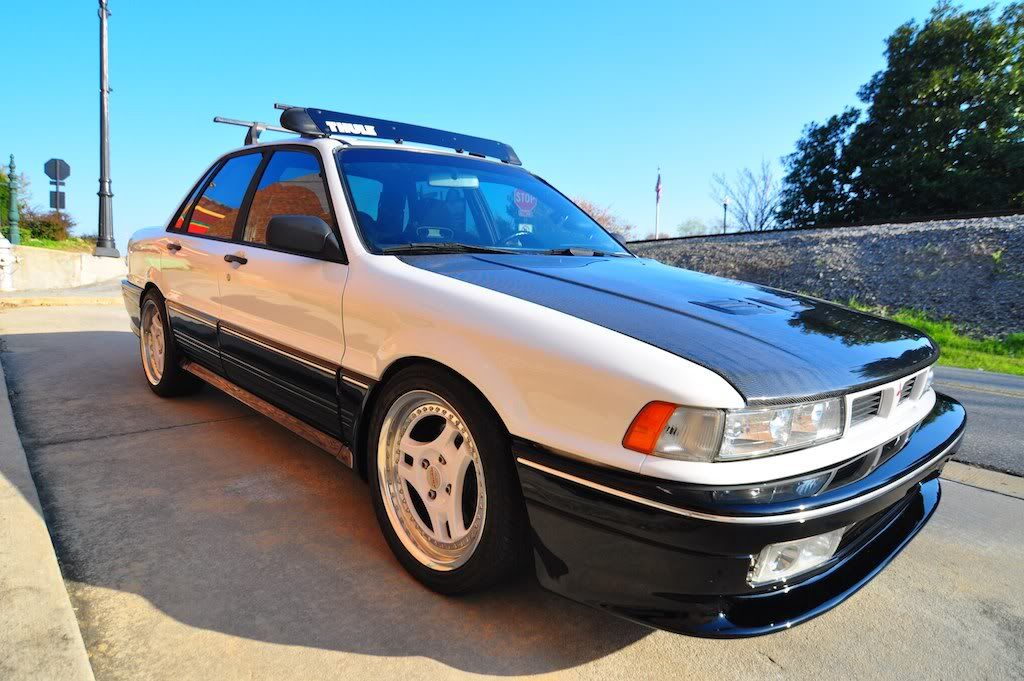 Has a double din radio now, and the SAFC II is in the glove box. The seats are also clean now.
Doesn't have the Strut Tower bar anymore, and has a new radiator.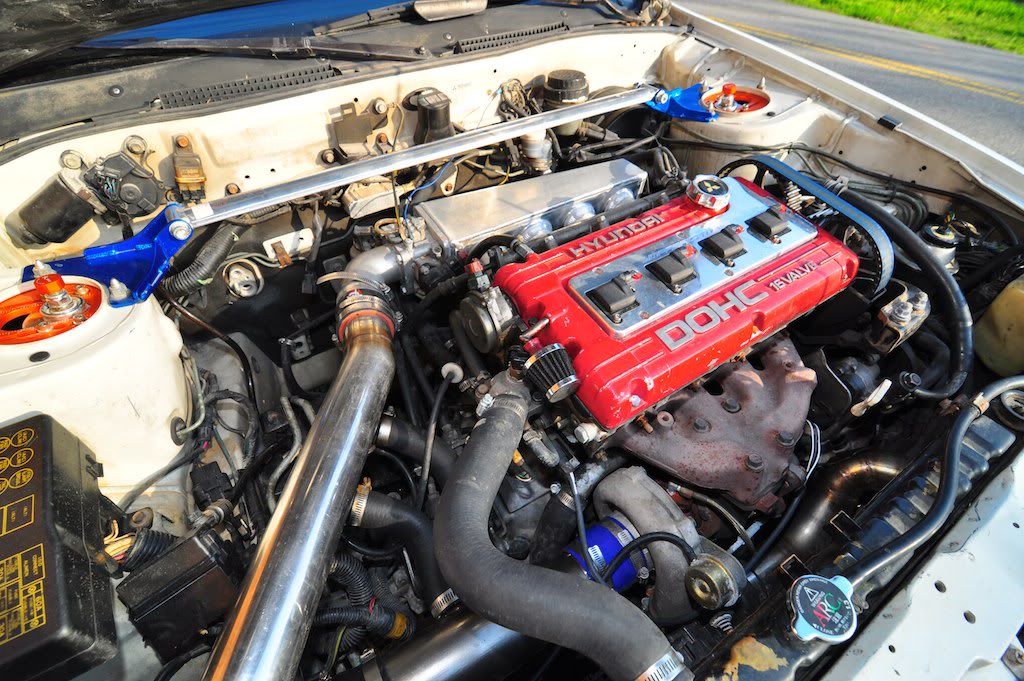 This particular car is number 1439/2000 in 1991.
It is 1 out of 1004 white cars ever shipped
It is 1 out of 337 white sunroof cars shipped in 1991.
It is 1 out of 132 white cars with the A70 option shipped in 1991.
So as you can see it is a very rare car.
Info from
link
The car was also featured in S3 Magazine in January of 2007.
I really do not want to sell this car and I don't have to. I got another car imported from Japan and would rather have the extra money to put into it.
On to the mod list.
Engine:
Hyundai Elantra valve cover
Engine Rebuilt with 2G pistons on 1G Rods
PTE 5031e turbo
JMF Sheet Metal Intake Manifold
Extreme Motorsports ported Evo III manifold
Extreme Motorsports ported 02 housing
Extreme Motorsports exhaust with twin tips
4gperformance 3 in intake
3g Maf
JMF COP setup
Web cams(272 intake/276 exhaust)
Bosch 044 fuel pump in tank
Delphi 850cc injectors
4gperformance FMIC setup with ETS core
Mildly crushed Galant VR-4 bypass valve x2 recirculated
Greddy Kevlar Timing belt kit
90 DSM external oil cooler
Brand New Water Pump
Brand new Timing Belt Tensioner
Brand New Radiator
Just Changed the Oil With Mobil One Synthetic
Drivetrain:
Shepard Stage 1 Tranny with Evo steel shift forks
ACT 2600
Suspension:
KSport 32 way adjustable coilovers
Whiteline front and rear swaybars
Powerstop rotors
Hawk Brake Pads
Stainless steel brake lines
Advan Racing 2 piece SA3A 17x7 front and 17x8 rear
New 215/40/17 KUHMO ECSTA front and rear
Exterior:
JDM front and rear bumpers
JDM projector fogs
HiRev Carbon fiber JDM style hood
Aerocatch Flush Mount Hood Pins
HiRev Carbon trunk with Moroso battery kill and MMC emblem
1993 Headlights
1992 Grille
JDM replica decals from ten8teen.com
92 Tailights
Thule Bike Rack
20% tint
Brand New Windshield
Interior:
2003 Evolution VIII front and rear seats on custom brackets and Netami harnesses
1989 under panel
2G shift knob with 1G leather boot/lever
Aeroworks Galant Specific Dual Pillar Pod
AEM Tru-Boost Boost controller/Gauge Combo
Aem Uego Wideband With a Brand New Sensor
Kenwood Double Din CD player
Apexi S-AFC II
Viper alarm system
Bads: 4WS leaks a little over time, Head needs a valve job puffs white smoke when idleing and downshifting. ISC is deleted so it has trouble idleing when it's cold, but when it warms up it idles fine.
I love this car it is loads of fun to drive, and it is very different. It is Modified in just about every way it could be and it is pretty fast. Similar setups have went mid 12's in the 1/4 mile.
$8500 OBO
Price is very negotiable.
Trades: I am interested in trades for just about anything. I really want to get something I can drive everyday and cash on top.
Contact:
Call or Text Justin (256)613-9651
Or Pm me
Car is located in Centre, Al.