Up for sale are 2 Roller Buick's, they are dismantled. One is a 87' Grand National and the other is an 83' Regal T-Type.
The Price is $1750 for both as a package deal, need them gone ASAP. These cars WILL NOT be parted out under any circumstances.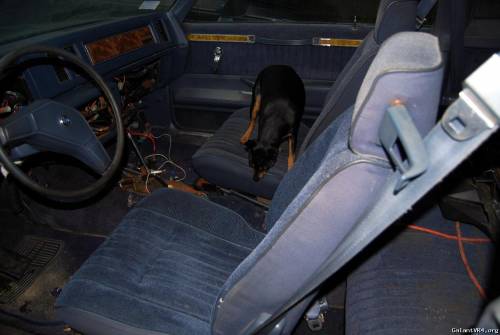 (dag not included)
sorry for the crappy pictures, it was raining out. There are a ton more photos here
rides.webshots.com/album/574364950
I'll start with the 83' T-Type:
This was my first car, I had it while in high-school about 10 years ago.
The body is full and not missing any parts.
Also comes with a full interior.
Original Engine Block (no good) and Tranny is included but not installed in car.
An 87' N/A Regal block / tranny with all of the 83' turbo original parts bolted onto it.
The original wheels are included.
The car is totally complete and comes with everything, it is just in a million pieces.
Now the 87' Grand National:
Has the complete body (minus the center section of the rear spoiled)
Also comes with all of the original interior (not installed of course)
Sunroof is installed.
Trans-am wheels which are painted black will be included.
There is NO ENGINE, TRANSMISSION, OR REAR END.
an 87' Buick T-Type hood which is originally gray will come with the cars as a spare.
Both cars have clean titles, keys, and will come with 2 Car Faxes upon request.
The story is, my Uncle decided that he wanted to install an 1987 Buick Grand National Engine in my 1883 Buick T-Type because the body was so clean on it. As most of you may know, this is an extensive swap. So halfway through the installation, my uncle decided that he didn't want to pursue the project anymore. My father took the 1987 Grand National Engine, tranny, and rear end for himself. Like I stated before, both cars are in a million different pieces and what you see is what you get. Both cars are located at my Dads house in Wareham, MA. They have been covered in tarps the whole time. The original 83' engine block and transmission are at my house and will need to be picked up. Somebody is going to get an amazing deal on this so hurry up. I am giving the Galant VR-4 crew first grabs at it. I will be listing them elsewhere soon. Thanks for the interest