1988 mazda 323 GTX AWD Turbo Red with 149k km's on the analog speedometer.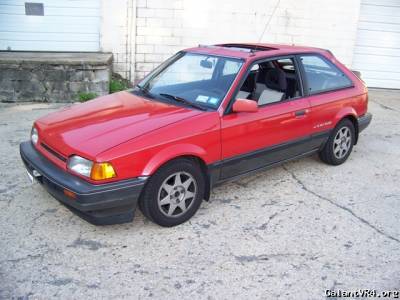 The car runs well and has never left me stranded. This is the second one I've had. The first one succumbed to rust and I stripped all the parts off it and put all the go fast parts on this GTX. Both cars were red. I still have nearly all the stock parts taken off the first car. The car has a manual sunroof and power windows and locks. Neither car has been raced. It never saw the track or a rally event. It's just a daily driver/weekend car. The other day I took it on a 2 hour trip with no issues.
Here are some more pictures of the car. I didn't have a chance to wash or clean the car for the pictures. Sorry.
click
Upgrades:
Ground Control Coilovers at all four corners and adjustable struts up front with stock shocks in back.
Full mandrel 2.5" bent exhaust to a straight thru magnaflow muffler with no cat
JDM Tranny (Short gears)
Supposed Ported Head
Camber plates up front
Large custom made FMIC with custom piping
Turbo XS adjustable BOV
Manual Boost controller set to 10psi
K&N filter on custom turbo intake
MSD blaster 3 coil with MSD wires and NGK plugs
Mazdaspeed Clutch (getting tired, but doesn't slip)
Oil temp gauge
A/F gauge (Narrow band tapped into 02 sensor)
Water Temp gauge
All three gauges are in a custom cluster in the center console.
Boost gauge on the pillar
SS brake lines (hard lines probably should be replaced)
255lph walbro in tank fuel pump
New fuel filter
Front Strut Bar
4 Extra rims with tires (50% tread left)
Black Front Bra
Slimline Fan
Alpine CD player with upgraded speakers all around.
X2-Racing steering wheel
Timing belt, water pump and tensioner have been replaced within the past 15k
Spare stock parts. Exterior parts are red:
Computer
Gas tank
Fuel pump and assembly
L&R complete doors
L&R fenders
Hood
Rear bumper
Front bumper
Front headlights lights
Front grill
A few sets of axles
Rear End pumpkin
Full Stock Exhaust
Complete B6T Engine Runs well, but w/ 147k I'd put in new bearings (99% Complete with turbo, manifolds, alternator, sensors, etc.)
USDM B6T tranny that seemed mint for the 2 miles I tested it.
Flywheel
Stock Clutch and PP
Rotors and associated Brake parts
4 spare hubs
Digital Cluster
Center Console
Factory Radio
Front and Rear Seats
Shifter Cables
Steering Wheel
Sunroof Tray
Custom Rear deck
Side Mirrors
4WD mechanical actuator
4WD engagement button
Complete driveshaft with mounts
Spare Radiator (not sure if it leaks so get it checked)
I think I have some spare struts
I have more spare parts, but I forgot all of them.
-There are a few issues that have to be addressed. First off the car is from the Northeast so there is some rust. Both rear wheel wells have the cancer along with some corners on the underside. It's not that bad and can be repaired.
-There is a crack in the windshield.
-The car has the typical clicking starter (brand new) when trying to start on occasion. Although, it has always started and never left me stranded.
-Since I have had the car the tranny has made a clicking noise while in first gear, but it never got worse. I'm not sure what the noise is but the car drives fine.
-In the really cold weather second gear can get a little grindy. I think it may need a new clutch master or slave. Once the car warms up it's fine. In the summertime there is no issue.
-I have no idea how many miles are on the engine, but it runs fine. I was told at some time the head was ported. The engine does leak some oil although it's never more than half a quart for 3,000 miles. -The driver side door makes a clicking sound when trying to roll up the window although it's already up. The
-The seats have some sun wear and are getting brittle. The spare seats are better off but have some stains.
-The driver's seatbelt doesn't fully retract.
-The locking center differential still works well with the button, but the sensor to notify that it has engaged doesn't. So, the light in the cabin doesn't tell you it has engaged yet it has. You can swap the sensor from the spare tranny, but it's really tight in there and you're not supposed to use locking center diff on a hard surface anyway so I let it be.
-The car could use some paint. The sides and hood are fine, but the roof is getting really bad with oxidation.
-Gas gauge only works for the top 1/4 tank, but from there down it doesn't do anything. But the low fuel light works, so I refill when that light comes on.
-The front bumper on the car has a lower lip on it and also has a small 3" by 8" hole (roughly) to allow more cooling for the FMIC.
-All A/C components have been removed.
-The PO must've ran over something that pierced the gas tank. I patched it and it hasn't leaked since and I am also throwing in a spare tank.
-The Check engine light flickers randomly until you hit the gas pedal. It's the TPS sensor that's not set properly. I set it once and it went away, but now it's back again. So, it probably has to be set again.
This is my daily driver and has never let me down. I don't want to get rid of it but I'm getting my hands on another galant vr4 that is clean so I have to lessen the herd.
The car is located on Long Island, NY and I will NOT ship.
Asking price for everything included is $2200.
Thanks.
-Paul