1993 Subaru Impreza AWD
Automatic
Air Conditioning
Power windows and locks
133,800 miles
My Grandmother bought this car brand new in 11/94. She was in her mid 70s at the time. See thinks it is a sin to break the speed limit. (I kid you not) It was garaged everyday and serviced only by the dealer. She had all the major services done (timing belt,etc.) and gave it to my sister @ 120,000 miles. (I think my mom drove it for a month or two until my sister saved up enough for insurance)
My sister lives in a town that does not require owning a car and asked me to sell it for her.
The car runs perfect. The AC works the power windows and locks work and the stereo works, etc. If something on this car doesn't work I can't find it.
It could use a new set of floor mats and the drivers seat could use some cleaning but all the fabric on the seats have no tears. The roll up hatch cover is intact. Have owners manual, spare tire, jack, etc. in car.
My sister did rub up against something and damage the drivers rear door but other than the door skin nothing was damaged, easy fix. The hood has a couple of dents in the front edge but the hoods opens and closes just fine. There is a small rust spot behind each of the rear wheels but again very minor. Even the paint is in great shape.
If I needed a DD I would not sell this car and keep it for myself. I have the title in hand.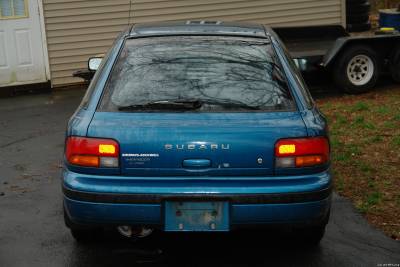 More photos here CLICK!