CAR IS SOLD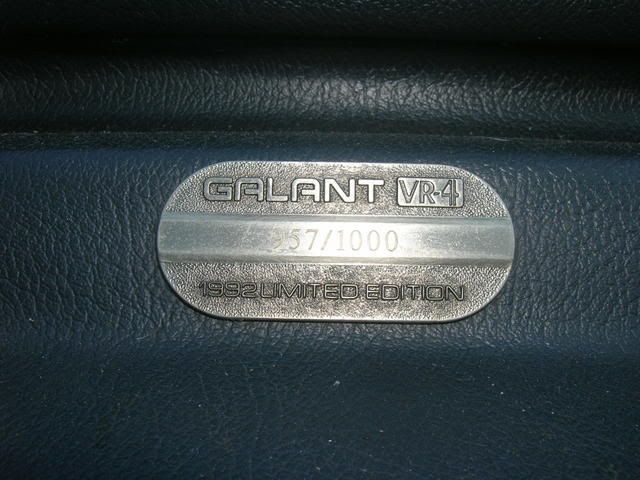 GVR4 number 957 of 1000. Car has the following mods:
-Big 16G turbo
-Ported 1G manifold
-3" Fujitsubo catback with muffler deleted
-Apexi turbo timer
-joeP MBC
-Eprom ECU
-Rewired fuel pump
-Custom made short shifter by me w/ EVO 8 shift knob
-KYB AGX Shocks w/ Ebay springs (ride great, handle awesome)
-Autometer boost gauge
-K&N air filter
-New radiator
-HKS BOV
-Nippon Rims(Buddy Club P1 QF knockoffs superlightweight)
-steel braided brake lines
-whiteline f&r swaybars
I want to be brutally honest with the car so theres no suprises anywhere and so you know everything about it as it is a 16 year old car. There is 180K on the car and the body does reflect that in the way that there are a few various scratches and dents. Nothing extreme but the drivers rear door has a dent from someone backing into it although all the paint is still intact and all is well with the door.Driveability wise the car is great and i used it to drive back and forth to work everyday until the drivers rear caliper froze. It is still drivable to get home with it like this as i still drive it every week to keep the fluids and all circulating the caliper just drags and makes rust dust stuff come from the rotor lol. That dust collects on the rim but can be wiped off easily with water. All electronics in the car work perfectly (locks, windows, moonroof, stereo ect). The tranny shifts great, no grinding or anything strange. Im looking to get $3000 for the car as is. PM me if intrested or email
[email protected]
I live in Appleton, WI zip 54914 if that helps you to see how far i am. I recently purchased this car from another board member but i am unable to take the time and fix the small stupid stuff and need some extra cash to help pay my evo off.
The bad:
-Theres an exhaust leak between the downpipe and O2 housing because there is a POS gasket in there and i never got around to putting the new one in.
-The rear seats upper stiching is coming apart like many other gvr4's, though its not really noticable from inside you can see it from outside the car because its on top where the sun comes in
-The clutch slips with anything more than stock boost but i will be including a brand new Exedy Stage 1 clutch kit with the car
-The rear drivers side caliper is frozen so it needs a new one but i have come accross these for like $20-$30 i just havent had the time to get around to buying and installing a new one as its not my daily driver
-There is no power steering belt because there is a small leak in the rear steering but a newer belt comes with the car if you wanted to put it back on and tighten a fitting or w/e may be needed to fix the leak. Thus there is no power steering currently so its hard to turn when stationary but fine while rolling. I personally have just gotten used to it like this and it drives normal to me.