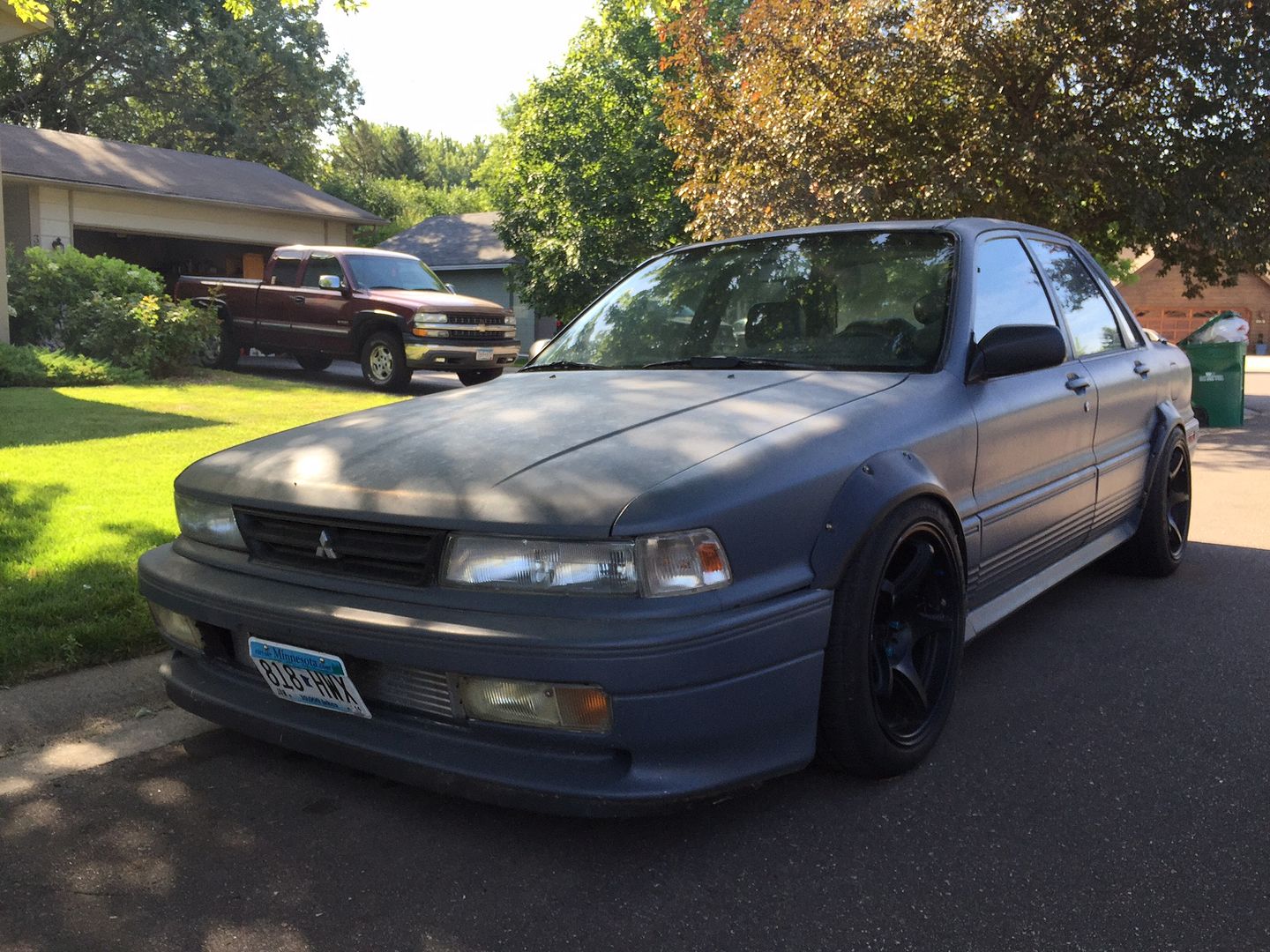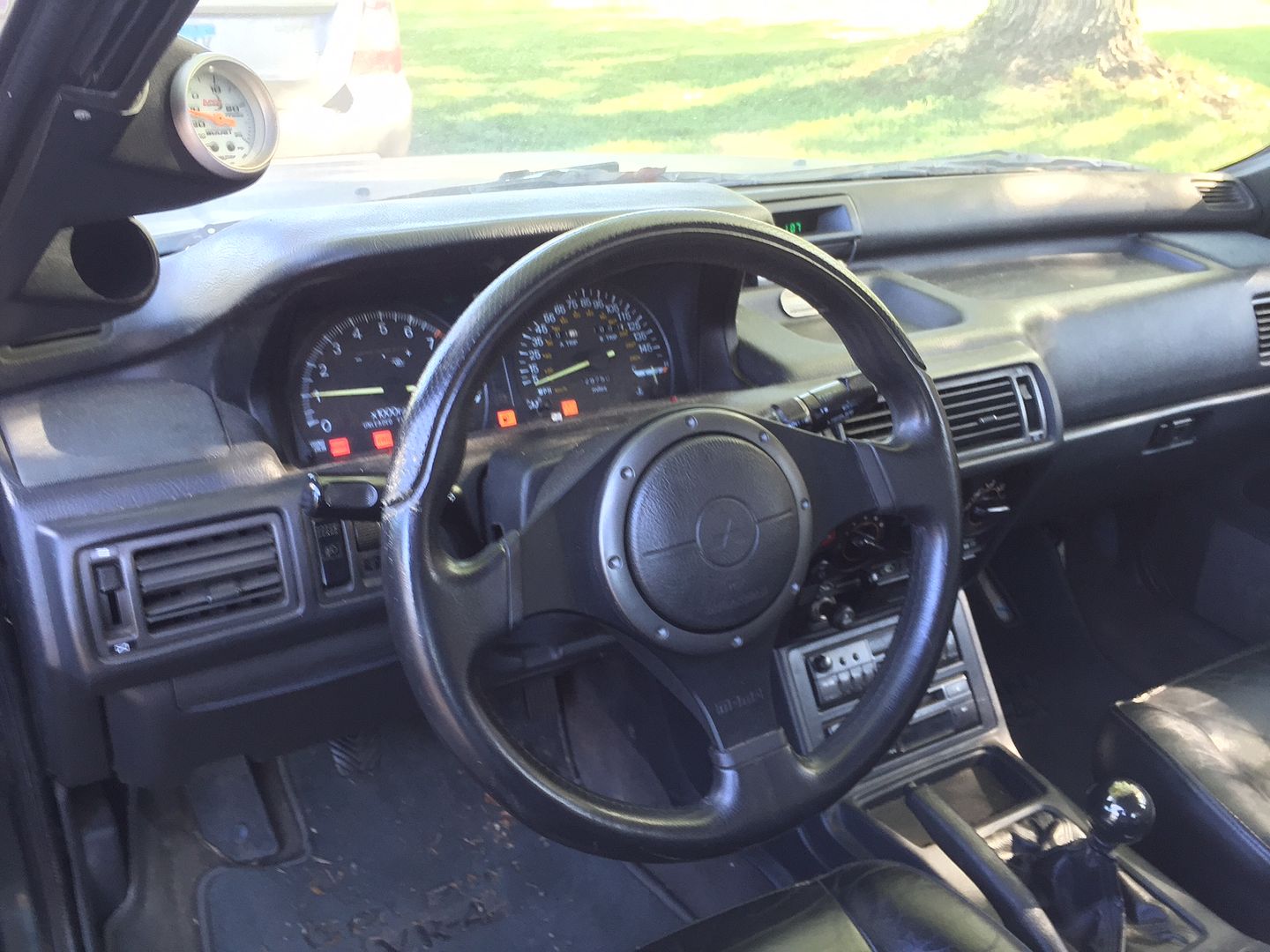 College got in the way of finishing either of my GVR-4's, and I parted and sold the other one. Kept some parts from my other one and swapped them on, and also did some work over college on this one, with the intent to do Auto X or something of the sort. Also split the car with my older brother, so it has an interesting mix of mods.
I recently graduated college, with work hammering down on me, have lost the time and interest to work on this one. Could really use cash more than this just sitting in my drive way, so it's up for sale. Parents are also on my case for having too many cars.
Mods:
-Evo 3 16G
-Tein Coilovers
-FIC 650CC Injectors
-FMIC w/piping and Greddy BOV
-Intake w/AEM Dryflow
-Front Strut Tower Brace
-Optima Red Top Battery
-Evo MAF
-EPROM ECU
-Hallman MBC
-Powdercoated Wrinkle Red Valve Cover
-Powdercoated Oil Cap
-JDM GVR-4 Bumper
-EDM GVR-4 Pre-Facelift Fogs
-Eternza Front Grille
-Hyundai Elantra Front Lip
-'89 Pre-Facelift Corner Lights
-91' Tailights
-7K (I think) HIDs
-Custom Cut Fender Flares (from a 240 or 270Z kit)
-5Zigens on Blizzak Snow Tires (not sure why this is the case, my brother was the one who swapped these one)
-Rays Duraluminum Blue Lug Nuts
-3" Exhaust with Magnaflow Muffler
-EVO IX Steering Wheel
-Razo Weighted Shift Knob
-EVO VIII Shift Boot
-Autometer Boost Gauge
-ACT 2600 Clutch
Regular oil changes with Rotella 15W-40.
Plastidipped Battleship Gray (or similar), with black. Starting to peel from a few small spots, but largely intact. Original color was Belize Green.
Stuff to know:
1) Probably needs new valve stem seals. Smokes from the exhaust on start-up, likely from sitting and only being started once a year for the last 2-3 years.
2) Does scrape due to tire/suspension set-up. The suspension is maxed out, but some low-pro tires need to be fitted to those 5Zigens (then all clearance issues should be fixed). It does move, but I wouldn't recommend driving long distance until you swap different tires onto these rims.
3) Power steering leaks. Not sure from where.
4) Was tuned by Shane at DB Performance a few years back on regular 93 pump gas, and even with some gremlins made about 303WHP.
5) Plan on bringing a trailer since the tire set-up makes this not an easy feat to drive. The car itself does run and drive though.
All that being said, I'm in absolutely no rush to get rid of this, and my price is firm. It's a good deal based on rare parts and the fact that it runs alone, along with the mods.
Title is clean. $3800. I can be reached here via PM, or at 612-801-7061 (text is best).
Thanks,
Stephen