Hey all. In order to finance Galant goodness and get on top of things financially(

never thought you would see those two things in the same sentence huh?) I am looking to sell my Honduh
2003 Honda CR-V EX AWD
2.4L
4 speed auto
Full time AWD
80,481 miles
Sunroof
Running boards
Cloth seats with leather bolsters
60/40 folding rear seats
New Pioneer DVD/CD player in dash (bluetooth connectivity as well)
Cosmetically I would give this car a 8 or 9 out of 10. There are a couple of scratches and a ding or two, but in remarkably good condition for a 10 year old vehicle. The worst blemish on the vehicle is a spot smaller than a quarter on the hood where the paint had chipped away. I used touch up paint and made it look quite a bit better, but you can still tell that the area was touched up.
It will come with the new head unit, the stock CD/Cassette player and 2 brand new tires that have never even been mounted. You also have a full sized spare on the back. Current tires have lots of life left on them.
This thing is in pretty damn good shape. This is a Texas vehicle. Bought here and stayed here so there is extremely little to no rust. It runs great and I average 24-26MPG during my daily commutes. Primarily state highways ~65mph
The oil was changed regularly since I bought it, and the previous owner(Im the 2nd) was an old lady who took good care of it. I have lots of receipts for maintenance as well as the installation paperwork for the head unit and the speakers in the front door that I replaced.
There have been 2 recalls on the CRV since I have owned it. 1st one was for airbag issues and the 2nd one is for headlight wiring issues. I have not gotten the headlight recall done yet as I just got the paperwork in the mail a few days ago and Ive been busy with work. It will be done before sale though.
On to pics. I still need to clean up the interior since it was late when I washed the vehicle and all vacuums were turned off. So more interior pics to follow.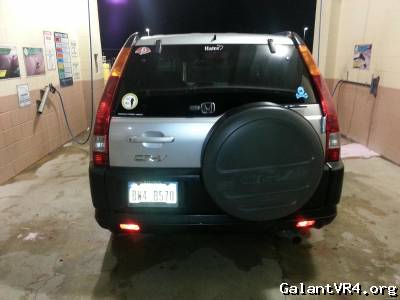 Keep in mind that mileage will increase as this is my DD right now. Im willing to travel up to, oh lets say 500 miles if its a long weekend 250 on a regular weekend, to meet up if someone is serious about buying. I will be cleaning the interior today and taking more pics. If you want to see something please ask and I will snap a pic for you.
Thanks
Tyler