Well on this car I'm doing things a little different. Taking my time on the little details, not going for all out straight line performance at first (it'll get there eventually). I'm trying to make it balanced - look good, handle good, stop good, and then haul ass. This time I am going to document everything I do, and I figured pictures of the JDM headlight setup would be useful.
The first part is getting the lights ready to go in the car. When the relays and bulbs get here today or tomorrow I will document the actual wiring if I feel a need to, there is already a few decent wiring diagrams out there that might be more useful than pictures.
I got these lights in from Hong Kong, thanks Yiuwa! One looked great but the other was pretty cloudy so I wanted to open them up.
I baked it at 175F for 15 minutes.
Once they are hot enough, you can pop the lens off with a screwdriver. Wear gloves so you can actually hold the light.
Cloudy lens. I cleaned it with a cloth and rubbing alcohol, worked nicely. The burn marks you see in the picture were on the outside bottom of the lens, and came right off with 220 grit sand paper.
Once I got everything apart and looked at it, I decided I wanted to paint the inside of the headlight housing on the plastic dividers. I also painted the other three edges of the lens to try to keep light from leaking out the sides. I used high temp bbq paint.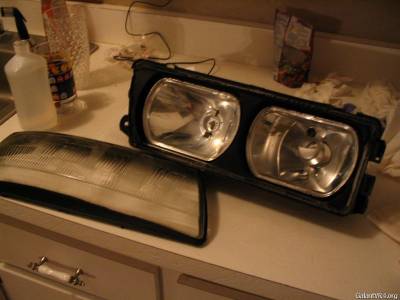 Comparison shots: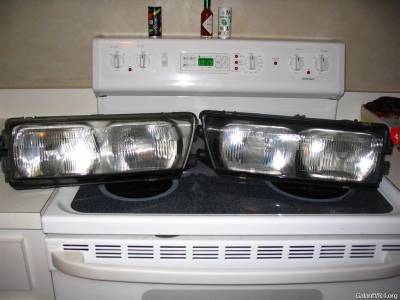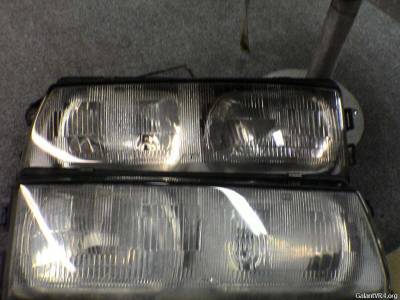 Overall I really like how it came out. They will look hot with a black grill, dark tint, and gunmetal wheels. This car is gonna be nice... give me some time.