</font><blockquote><font class="small">Quote:</font><hr />
I wouldn't trust a non OEM part for something that crucial to my car not burning up. They are really cheap and I would suggest getting all three of the parts on each injector:
Top of fuel rail side, o-ring: MD614813 (this seals fuel from leaking between the rail/injector)
Bottom of fuel rail side, "injector sheet": MD614805
Bottom of injector/intake isolator: MD087060 (this seals the injector to the head preventing boost leaks)
Fuel rail mounting isolators: MD095402 (x3)

---
Note: The O-ring part number has changed to 1465A188.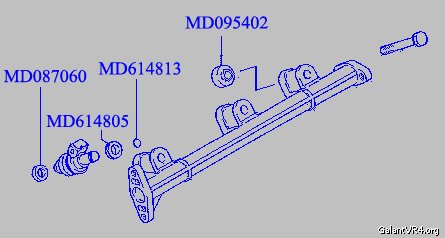 The o-rings (MD614813) and injector isolators (MD087060) should be replaced as a regular maintenance item, or especially if upgrading injectors and you're going to have them out anyways. The original ones are probably very hard, brittle, and dried up, leading to either a fuel leak or a vac/pressure leak. Use some dielectric grease when assembling and inserting into the head/rail to avoid tears.
old injector isolator:
new injector isolator:
Thanks to all the members who have contributed to this including keydiver, atc250r, and me.