When switching to an aftermarket wheel, it is highly recommended to use hubcentric rings
Hubcentric rings are designed to fill in the gap between the hub of the car and the center bore of the wheel. Most wheel manufacturers design their wheels with a center bore large enough to fit on most cars. Therefore, since wheel manufactures make their center bore large enough to fit most cars, most wheel fitments have a gap between the hub and the center bore. This gap usually doesn't allow for the wheel to fit hubcentric but rather lugcentric which causes vibration. Therefore, to fill the gap and ensure the fitment is hubcentric, hub rings are used.
You will need to contact the rim manufacturer for the center bore of the rim.
- Most aftermarket wheels are generally a 73mm bore.
- Galant VR-4's have a 67mm centerbore.
So, to order for this setup, you would need a 73x67 hubcentric ring.
I ordered mine from DiscountTireDirect.com (1800-589-6789 x427) You will probably talk to Norm who is super nice and will take care of ya. A set of 4 is about 20 bux shipped! I had it at my doorstep in 2 days!
Below is an image of a hubcentric ring. It is for a 67mm rim with 59.8 centerbore.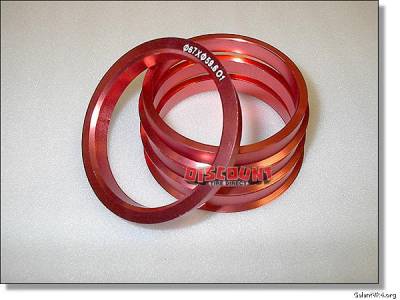 For low-profile tuner style lugnuts, I recommend buying them from summit racing. I ordered GOR-21133BC (black chrome). It is 29.99 and comes with the spline tool.
Hope this helps someone!
pic 1: hubcentric ring laying next to rim
pic 2: hubcentric rim inside the rim (in the center)