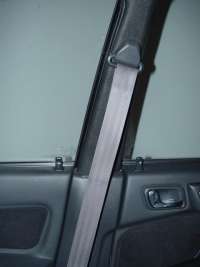 Belt installed:
This is the final product of a 1989 Galant seat belt installed in the car. The B-pillar is very different between the 89 and 90+ Galants so some work will be needed.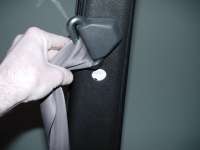 Top Bolt:
The plastic pieces are from a 1989 Galant and you can see the factory location for the top seat belt mount. You can use two different factory bolt holes in your Galant VR4. One sets the seat belt higher (as I did) than this hole or you can pick the lower one. The lower mount doesn't hide the factory hole in the plastic piece and it puts the belt right on your shoulder.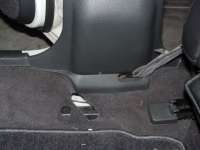 Lower Bolt:
From this picture you can see the bottom mount. It uses a factory mounting point but again, the entire b-pillar is different in 1989 so mounting the seat belt is tricky.
I removed the factory lap belt as well and you can see the hole cut out in the carpet.
The plastic piece is again from a 1989 Galant.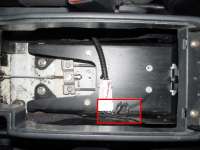 Wiring Changes:
When you remove the original belts, the seat belt light in the dash will come on. To prevent this, loop the the factory wires as shown in the center console.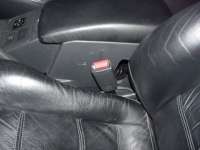 Belt Buckles:
The seat belt buckles are also different from the 1989 Galant. You'll have to remove both front seats and remove the seat belt clips. The seats require no modification to make this work as it has provisions for this type of seat belt clip from the factory. The plastic trim piece from a 1989 Galant front seat will be needed too to make it look original.