Here is my pride and joy, taken before the birth of my son, she's looking a little more tired now.
The pictures show the standing Stance with Active ECS, "decked" IS definately the term!
Originally an 1800 carb EDM e32a, the mod list is as follows:
Engine/Driveline.
*4G67 DOHC engine
*External engine oil cooler added (genuine mitsu VR4/GTI)
*F4A22 trans (Stock)
Converted to fuel injection from scratch (tank, lines, looms, emissions, engine bay furniture!
Exhaust
*Stock mitsubishi Viento largebore, front to rear!
Suspension.
*ACTIVE ECS
Height sensors, G sensors, turn sensors and all associated wiring/pneumatics added, front wishbone changed.
*Active steering (rack, sensors, mode button, computer)
Brakes.
*VR4/EDM GTI rotors/calipers/master cylinder and booster, E32A split valve and hard lines.
Wheels.
*'91 Galant 15" 8spokes
*195/60 15 "V" P6000
Exterior.
*Japanese Headlights (UK wiring)
*Japanese Corners (Single Bulb 21/5w bulb)
*Fender Markers.
*JDM fogs
*Aero Bumper
*VR4/VXS/VIENTO Grill
*EDM headlight washers, reconfigured to work with ECS reserve tank.
*EDM sidemarkers
*Aero side kit
*Original rear bumper fitted from the factory.
*JDM window visors
*Smooth Fueldoor
*Powered folding mirrors
*"galant" quarter windows
*Working clean power ariel
*Rear screen with Wiper/motor/washer etc.
*JDM/GCC Rear Garnish!
*JDM facelift spoiler + trunklid springs.
* Inner brake lights configured to act as brake lights unless foglight swith latches them (Fogs = uk requirement for inspection)
* VX-S Emblem
Interior
*Cruise! With rejigged wiring to add engagement indication in cluster.
*Climate control, complete system.
*Jdm light up window switches.
*Vanity light type Sun visor/shade
*Original Mitsu accesory mats
*Distress flare
*Remote lock Button
*Factory door pocket speaker fixtures
*Real Walnut vent kit
*Original Facelift GLSi Interior, plush (fabric montecarlo)
*Bluetooth (Hidden away) Ericsson HCB-30 tapped int the back of the sterio
*Reverse beeper
*Key lockout on column.
*Momo steering wheel from '91 Subaru Legacy Turbo. on Lancer Evo 3 Boss.
*Key reminder light from Pajero, retro'd to column with original circuit behind.
*Colour change MPH Clocks, 7K redline, orig milage, speedo head converted to actuate Japanese speed warning chime (custom cam to operate reed switch).
*Japanese speed warning chime, hooked up to headlight height swith so it can be enabled for JDMness and disabled for sanity

ICE
There is some:
Clarion ARX8570Rz head unit.
Clarion C-Net -> C-bus converter
Clarion CDC-605 6-disk shuttle
Infinity Reference speakers.
Infinity 10" sub mounted free air in ski hatch hole
Sony amp, mounted to rear of back seat.
Alarm
Uh huh!
All the looms have been off this car and built pretty much from scratch, The electrics are basically JDM, US cruise and EDM lighting (more separation for fuse allocation to lighting)
Rich
New pics since the rebuild: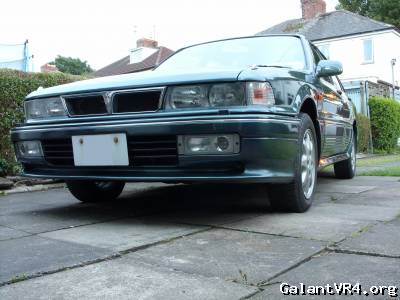 Engine bay (needs a clean)
With a JDM plate