Joined

Sep 8, 2006
Messages

1,699
Location
There was a nice write up on the proper was to remove a broken Bolt with drills and easy outs.
This is a method that I learned a long time ago and use Very often. Granted, this will not be able to be used by everyone, But I hope it will help some.
This is a great way to remove rusted in bolt that have broken because of the heat that is added in the welding process. It works just as well on bolts broken into aluminum becasue it is beter to heat the metal, than the aluminum. Just allow a little bit of time for the weld to cool before attempting to remove it.
There are some risk involved with this method, but if you know how to run a welder, you shouldn't have a problem. The most common issue, is over flowing your tack. If you do not build the weld in small incraments, the weld well run, and bond to the piece you are trying to remove the broken bolt from.
The bolt that is broken, is a 10mm (14mm head) that bolts into the block to hold the axle carrier bearing. I used this for demonstration because it is easier to see. I use the same method on all bolts allthe way down to 6mm (10mm head)
The bolt Is fairly clean, So no prep or cleaning was used.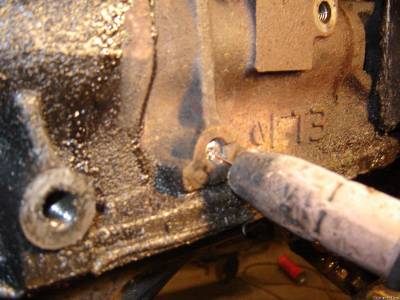 The weld is pretty straight forward.
I built the weld with a 2 second tack at a time until there was enough on the bolt to grip with a pair of Vise-Grips. Its not pretty, but it dosen't have to be.
There is another option to this that I have used before aswell. Once you get a tack that sticks out of the hole, hold a regular nut with a pair of pliers, and place it over the tack and fill weld the rest in. I usually only do this if the bolt is really stubborn.
The rest Is straight forward, screw the bolt out.
Some times it will take more than one attempt. I have had to re weld the tack on several times because of bad bonding, but it gets better after the first 1 or 2.