How to fix your OEM power antenna
You will need:
16 or 18 or 20 gauge wire (you may pick whichever you like) I used 20 Gauge wire. You will need about 20 feet total
Solder Iron + solder wire
Electrical Tape
Zip Tie
Toggle Switch (On and off) (2.99 at Radio Shack) or if you want to be special, you can get the one that lights up.
Fuse holder
If your power antenna fails to go up or down but you KNOW the motor is good then the Relay is most likely the culprit. Good luck fixing this relay…
I'm assuming you know how to test the Antenna Motor. It's pretty simple. There is a two prong connector on the antenna assembly (See the second picture of the location)
To Test the antenna motor:
First off remove the antenna by removing the 2 -10 mm nuts and one screw for a ground.
Use two alligator clips and one clip will go to one prong then to Ground and use the second alligator clip to go to the other prong then it will be used to touch the car battery. If it doesn't do anything, reverse the clips. If it doesn't do anything then, then the motor is broken.
The Fix if your motor isn't broken:
The antenna uses a Dual Relay but I just by passed it all and jumpered the red wire to the blue with black strip wire together with a toggle switch in between. This will get power even when the car doesn't have have the key in the ignition so you might want to save power by switching it off when its not in use. I mounted the toggle switch where the coin holder is next to the mirror adjustment control is located. See Pictures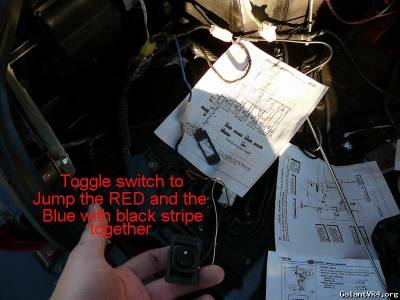 Last edited by a moderator: