Joined

Oct 18, 2012
Messages

647
Location
No questions, just a cautionary tale and a need to vent because seriously, f***.
12*F here in Portland a few days ago. Started up my car yesterday and it was missing pretty bad and running very rich. I do have cold-start enrichment setup in link, but 11.0:1 was pretty extreme. I let it warm up a bit, and the rumble didn't go away and more concerning, things didn't lean out. I got link hooked up and nothing looked terrible, but there was certainly a misfire. No CEL, so likely I had spark. I verified this by pulling plugs while idling. #4 (closest to the tranny and the coolant outlet at the top of the motor) was sparking, but no change in idle.
ugh
I verified spark on all cyl's and while #1 didn't spark to the head as enthusiastically as #2-4, it was sparking. I shut it down and pulled the #4 plug. It was loose, but I couldn't see any evidence of blow-by. Still, I was cautiously optimistic. The plug came out smelling shiny, smelling of gas and covered in oil.
That's not good, but a loose plug could likely cause all sorts of things to look terrible. I put a new plug in and things seemed ok for about the first minute of idling. Then it leaned out and went to sh*t again. I could actually idle fairly stable by just killing injector #4 in link, so I did this and let the car warm completely up, hoping that something was frozen and the engine heat would help it thaw. No dice. Still super-lean and misfiring.
I pulled all the plugs and what an ugly sight...
That's cly 3,2, and 1 from left to right. #3 looked fouled by oil, and #2 and #1 were fouled on one half, and white on the other.
closeup: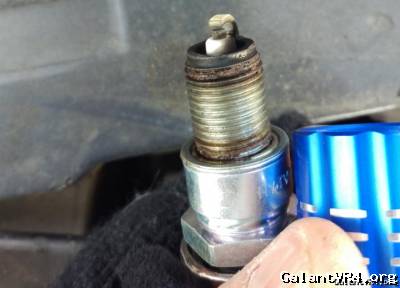 My best guess is that my coolant froze and lifted my head on the transmission-side of the motor. I haven't tested it yet, but I'd bet I've got little to no compression on #4, I'm blowing oil into #3 and have questionable compression there, and that #2 and #1 are showing symptoms of rich idle, lean revs due to the clusterfuck that is #4 and #3 being screwed up.
The car goes to EHMotorsports on Monday (if I can find a tow for it in this weather) and we're going to pull the head. Fingers-crossed that nothing else is dicked up. We will see...
On the brightside, assuming the block isn't compromised (*cough* part-out *cough*), I'll use the work as an excuse to get some other intake-related work done.
Anyway, f*** the cold weather!
Last edited: