Not really. I'll explain.
I found a pair of evo X front struts and springs for cheap. I did this because I got evo 8 rears for free but no fronts and I wanted to see if the X struts would work. As you all know (or should know) evo 8 rears will give your car a nice little drop in the back. I didn't measure my stock fender gap, but with the evo 8's on there its about 2 inches.
Cool, now we also know that the fronts from an evo 8 will not give you this same effect, so you need to either cut the springs or get lowering springs. The evo X front strut has, as far as I can tell, the same critical dimension as the evo 8/9's. Well, who knows how the evo X fronts will make it sit? Maybe they will lower it the same amount? Thats what I wanted to find out.
Here's what I found out... Stock fender gap is somewhere around 3 inches... Here's how the evo X struts sat with uncut springs.
Too high - cut off 1/4 coil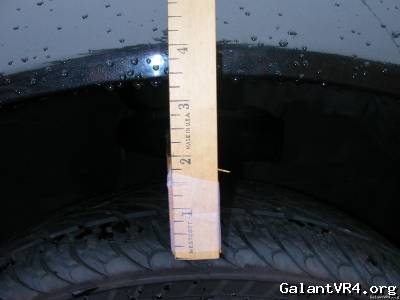 Still way off... cut 1/4 coil more
Hmmm... only lowered it another 1/4 inch. Might as well try 1/4 coil more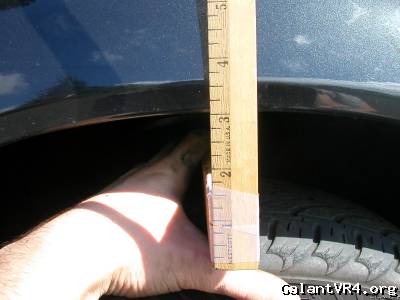 Phew, made it back to stock. Lets try to get this bad boy sitting right! Take off 1/4 coil more and....

You cut too much and the spring won't seat anymore.
3/4 coils is as far as you can go. Here's why.
The top coil of the spring has a reduced diameter for the top spring perch. If you cut from the top, it won't stay seated anymore, so you have to cut from the bottom. If you cut too much, then the spring will have too short of a resting height for it to seat correctly on the bottom while still allowing some preload when putting the top perch on. Here is how the spring sits in the bottom with 3/4 of a coil cut.
I tried cutting another 1/4 coil (making a total of 1 whole coil) and it was too much. In order for there to be some preload on the spring, I had to rotate the spring 270 counterclockwise.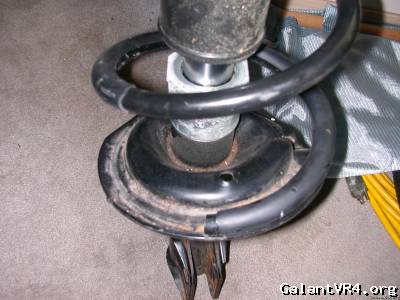 This held the spring in place, but whats going to prevent it from scooting back around and coming free? I guess I could put a weld bead there to keep the spring in place, but even like this, the car didn't sit low enough. (sorry I don't have a picture of it, but it was only slightly lower than the 3/4 cut and the first 1/2 coil of the spring was deflecting a LOT due to it not being properly supported by the bottom perch.
So, my advice to you is this: If you are looking for some decent replacements for winter driving or don't mind keeping the stock ride height
and
don't mind doing all the extra stuff for getting an evo 8 front suspension to bolt up, then evo X struts will work for you.
Just be sure to only cut 3/4 of a coil off or less
.
Otherwise, you'd be much better off getting evo 8/9 suspension all around. That way, if cutting springs isn't for you, you can still buy a set of lowering springs.
So you say to me, "why not just buy evo X lowering springs?" I don't want to buy a set only to not use the rears. Plus, having the evo 8/9 suspension all around just makes more sense: no mismatching this and that and I would think it is much more available right now than evo X suspension.
Edit: After looking over the evo 8 suspension thread in the how to section, Scotty Y has gaps of 3" front and 2 3/4" rear with his installed. I don't know why my rear sits so low, but I like the 2" fender gap and would prefer the same or lower up front.