Hi guys, when I bought my car and started to mod it, I could not seem to find any info regarding exhausts. As a newb, it was confusing. Trying to figure out which downpipe would work, if any...1g, 2g...? Who knows. I just could not find any solid info.
I finished my exhaust last night and decided to make this post in attempt to help someone in the future. I'm not claiming to have all of the answers, or even the best answers. I'm just going to share what I did and hope it is helpful. I'm running a 2g exhaust mani, s16g turbo, and 2g o2 housing.
I built a full 3" mandrel bent exhaust with no cat and one muffler. If you have emission testing, this is not for you. Otherwise, continue on

I tried to do this with the least amount of money as possible while resulting in a decent end product. I'm pretty happy with the results. It ended up costing much more than I expected. I'll total that up in the end of this thread. This exhaust is just barely louder than my stock exhaust (that had a few rust holes in the muffler). I'll update this thread with video when I figure out how to do such a thing. The db app test is as follows:
Windows up, phone sitting near the clock.
Car off: 30db
Idle: 60db
45mph cruise in 5th: 62db
70mph cruise in 5th: 62db
3rd gear WOT pull to redline: 64db

Downpipe: $70
I decided to try out the $70 Ebay downpipe. The fit is perfect. Time will tell how well it holds up. I also tested this out at the track. With full stock exhaust I ran a
[email protected]
I dropped the stock exhaust and installed the EBAY downpipe and ran a
[email protected]
It has a nice flex section and a threaded hanger to use the stock bolt and hanger. The only thing I would change is the neck diameter reduces down at the o2 housing to mate up. The neck of the DP is the same diameter as the o2 housing, so it is probably OK.
EBAY Downpipe
This sale has ended, but search EBAY for "Stainless Steel Downpipe Eclipse GSX 89 90 91 92 93 94"
Muffler: $125
This is an important piece of the pie. I've had cars in the past that were SO annoying to cruise around in. I did not want that for my DD GVR4. After some research I decided to go with the Vibrant Performance StreetPower Flat Black Universal Muffler 1147. This is a 3" straight through muffler. I'm extremely impressed by how well it works.
Vibrant Muffler
Piping: $195+shipping
I purchased all of my piping and hangers from
Mandrel Bending Solutions
. They were very fast and responsive. All of my piping and hangers came in correctly within 5 business days. They sent the wrong flange. I notified them and they immediately credited the amount. This worked out well because I simply cut off the flange on the downpipe and welded it directly to the rest of the exhaust. I'm really glad this worked out in this manner. I think having a flange there would be more trouble than anything. Needless to say I'm happy with their service and I will use them again when I need i/c piping.
All of the piping is 409 SS 3"
QTY 2: 5' staights $50 each
HERE
I used one full pipe and only 18" of the other. If you decide to install a 18" cat or resonator, you would only need one 5' pipe. Total $100
QTY 1: 90 bend $20 each
HERE
Total $20
QTY 3: 45 bend $20 each
HERE
Total $60
QTY 5: hangers $3 each
HERE
Total $15
That covers the materials. Then I have to buy a new cutoff blade, grinding disks, and the whopper... a new welding tank. That's not the Galants fault though so I won't add those in to the cost

PICS: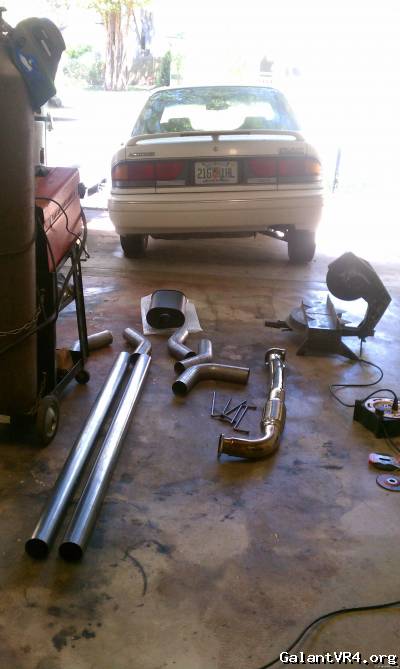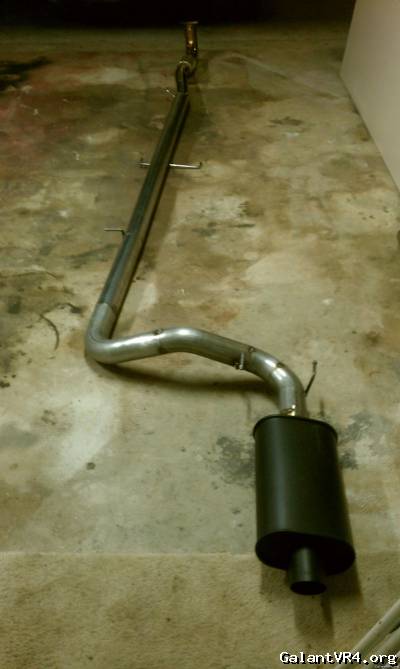 Total material cost with shipping is about $430.