This is in response to my thread in the Newbies section:
click
Cliff's notes:
91 GVR4
90 Tranny
91 xfer case
91 shifter with modified 91 cables
ClutchNet Red 2x PP and Kevlar disc
Having problems shifting into 1st, 2nd, and reverse.
OK, I replaced the clutch pedal assembly with one freshly rebuilt by Shep and adjusted the pedal as per the FSM. Still didn't fix the problem. So, I pulled the tranny, and the pivot ball DID have a shim under it, so THAT's not the problem. Then I noticed the following when I pulled the clutch and pressure plate off: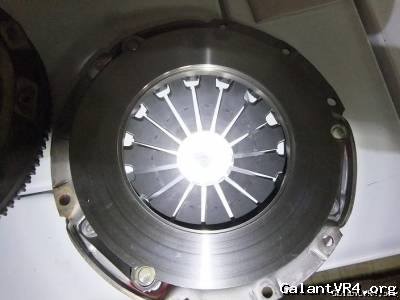 From the pics above, you can see that the fingers on the PP seem to be contacting the back of the disc in the vicinity of the center spring covers. That shouldn't normally happen, right?
I checked the step on the flywheel, and it's 0.609" which is right in the middle of the range the RRE suggests. The ClutchNet rep told me on the phone that the stock step was what I needed to use (0.612" according to RRE).
It seems like the clutch is not fully disengaging, no matter how long it's held in. As further evidence, once it is in gear, with the clutch fully pushed in, the front drive shafts will spin.
Any ideas?