some random items of possible interest for you folks:
Two grills:
Chrome and black, no major defects to call out, the black one needs some rehab on the paint but otherwise it's solid. $60 each paypal'd and shipped in the US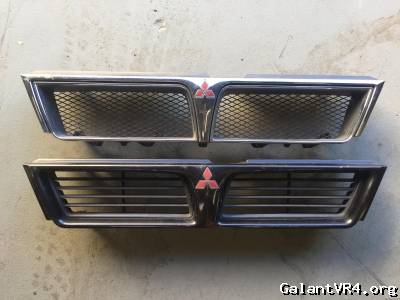 Also have a complete rear steering rack and line set up, pump isnt available. using it to plug the hole until I get a 3 bolt LSD in the car. Rack and lines are rust free, came off easily. no bends or cracks, just make me an offer and include roughly $20 for shipping all the stuff in that offer and I'll be glad to let them go to someone trying to keep their AWS going.
Got an auto shifter, I think it's from a galant. It was mounted in my galant as the previous owner had done an auto conversion.
$45 shipped in the 48.
Lastly a set of 4 5Zigen Typhoon wheels. Made in Japan. Legit 90's-2000's jdm style.
All four are straight with minor chips and wear, one is missing a valve stem cap, there's some nicks on the gunmetal paint but these wheels are ready to use. I only took them off because I went with a different style of wheel.
I couldn't find the date code on the tires but I assume they're old. The tires are hankook 235/45-17
Lug pattern is 4x114.3
offset is 40mm
$360 picked up