Allright, I bought this car last year from a local board member on here last year march and has come a long way from what it was. I really dont want to sell it but its time for something new for me. All the mods have been done by me as to the car was purschased bone stock.
1992 Galant VR4 144/1000 Nile Black
Motor is fresh with just over 2k on the rebuild
Motor:
Fresh 6 Bolt N/T Block
Ross Forged Pistons .020 Over 8.5:1
Scat Rods
ARP Rod Bolts
Brand new Mitsu crank
ARP Headstuds
Commitic Head Gasket
newer 6 Bolt Head
Freshly Resurfaced Head
HKS 272's
JDM galant oil Filter housing
-10 Pushlock lines to 90 Oil cooler
Custom Shaved and pollished Valve cover with -6 Bungs welded
-6 SS Lines to oil catch can
All Star oil catch can
Walbro 255 intank
-6 SS Feed to NEW OEM filter
-6 SS to Rail
FIC 650CC injectors
-6 SS to AFPR
Fuellab AFPR
Magnacore 8.5mm wires
NGK BPR7ES
Snow Perfromance Stage 2 Meth Injection
DejonTool Short Route FMIC Pipes
Custom FMIC
Greddy Type R bov
AMS Boost Controller
MAFT
3in Gm MAF
DSMLink V2
Eprom ECU socketed by Steve
AEM UGEO Wideband
Custom 3in intake
Big ass K&N off a Mustang
FP Race Mani
PTE 5031E 50 Trim with Cut exhaust housing
-4 Feed line
-10 SS Return Line
Custom AMS 3in Turbo Back with Thermal Muffler
Auto Meter Boost and Oil Press Full Sweep Mech
ACT 2900 Pressure Plate
ACT Street Disc
SHEP Stage 4 Trans with welded Center Diff and Chromoly Shit rails
4 Bolt with LSD
92 Talon Rear subframe(AWS Delete)
D2 Full Race Coilover's
5 lug swap
Motegi 17in Rims
Pioneer DEH8600 Deck
Optima Yellow Top located in the trunk
Prothane Motor mounts
Viper alarm
20% tint all around with windsheild banner with liftime
Car also has Brand new Rotors all the way around, New tierod ends, new OEM timing belt and tensinor.
The bad
Dent in front left fender from previous owner
Minior Rust on hood and trunk lid under the wing
Some dammage around the key lock on trunk from stupid friend
will need two new tires
The steering wheel looks like ass.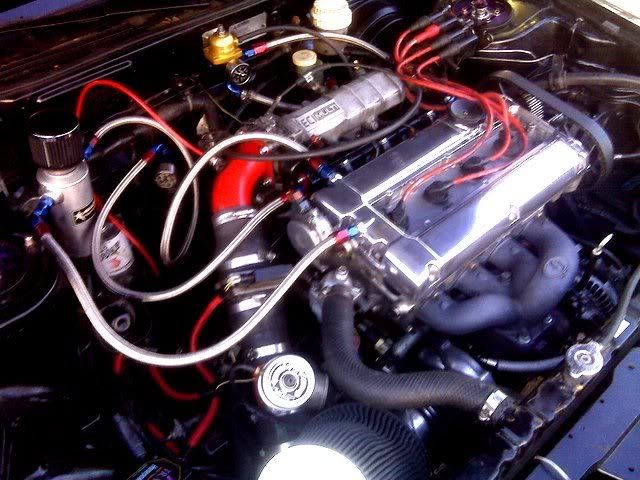 Will partial trade for an 03-05 Evo with some money on my part

Thanks For the space,
Nick