I'm selling my pair of VR-4s - plus a great collection of parts. I've worked on and driven these fantastic cars for twenty years. Only another VR-4 fanatic could even understand the following:

The first VR-4 is a 1991 Galant 1738/2000 Vin JA3CX56U8MZ013482
with 152,000 miles and is located near Denver, CO. I'm the original owner of this very clean green machine that my lovely wife accidentally drove under a 3/4 ton Dodge Diesel. After some negotiating with my insurance company, I purchased it back from them because I couldn't stand to part with it. After much searching, I was able to locate an identical car and started to restore it with the best parts from both cars. (Happily, my wife and I are still married.) On this "wrecked" car, the front bumper is usable but all sheet metal on the front clip is damaged. The left rear door skin is unusable – another sad story that doesn't involve my Dearly Beloved. The engine that comes with it passed the Colorado Emissions Test, however it did smoke a little and the entire running gear is in good shape. The engine has been stored inside and the interior is better than average. Wheels are good and are painted the original green. Almost all the parts are included plus enough major parts to build a third engine.

The second VR-4, also a 1991 Galant 553/2000 Vin JA3CX56U0MZ008308 has 198,000 miles is at the same location. I'm the third owner of this car and did a full restoration during the last 4 years as well as a full engine overhaul starting with a factory short block and rebuilt everything! The total mileage on this is engine 45,000 miles. Timing belts were replaced 300 miles ago. In 2006, I removed all body trim, sanded to it to bare metal and repainted with it Dupont two-stage *****. The leather interior is outstanding, with a factory sound system and sunroof. Tires are Michelin Alpines with about 50% tread. This car is completely stock and never raced.

This car is also listed on Craigslist, Denver, CO
Just click here: click

.

Contact me at 303-697-9174 or [email protected] for info or better/different pictures.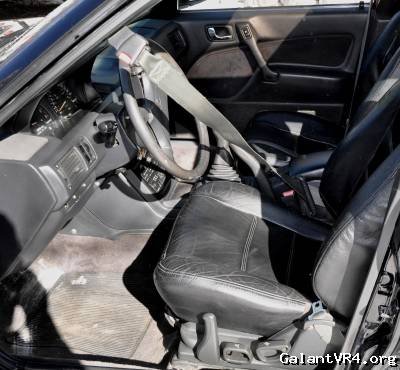 Went to look at these yesterday.

You just don't see "adult owned" cars any more, and this one is all that and more.

Glenn isn't an "internet" kind of guy, he's from the old school. When I showed up, he was in the workshop, putting the core motor back together. The factory service manual was open to the apllicable section (and the pages were greasy and well used

)

To say this car is up to date on it's maintainance would be the understatement of the year!

Took it on an extended test drive on every road surface from highway to twisty back road, and this thing drives really well.

... the transmission shifts like butter ....



Is it "perfect"?

In a word, No.

Someone who wants a "show car" might be a little dissapointed.




... and the price reflects that ...

If it was show quality, the price would be ten grand or more, The owner is very realistic in that regard.



I believe in being honest about these kinds of things ... ( I'm kind of "picky" myself ), and for a car that's going to be daily driven, the fit/finish is quite servicable.



Overall, the interior is pretty good shape, (still has the original shifter/knob/steering wheel!)

Glenn is a non smoker and has cared for the car well, however, there are a few small (and common) problems with the interior. The seats show a little wear, but are in very good condition. The dash is pulling up a little by the badge, but that's what life in the high country in Colorado will do to a car.

Overall, the interior shows the wear and tear you expect to see in a well cared for car that has lived a usefull life.


As far as the exterior goes, Glenn painted the car a deep black by himself in his garage, so there's some paint defects. ( the automotive gods seem to "smote" those brave enough to paint their own cars with an inoprotune wind gust that rattles the structure while paint is wet



)

He was smart enough to not try and wetsand them out, thereby thinning the clearcoat. It was also done a few years back, so there's a few minor "battle scars" from running around the mountains. He used a really good paint system, and layed down a pretty thick clear coat, so a "good" body/detail guy could probably really clean this thing up well. (I'd leave it be, myself, as it shows the cars got an honest character and personality)

The window trim around the front and rear glass could use a little work. (good glass guys are hard to find, and I turned him on to my guy, so that'll be fixed before the car is sold)




... but where it matters, this car has the goods ...

I have bought a few of these cars over the years, and I always look for the condition of the shell itself. Bolt on parts can be replaced, but the shell is forever, and this one has every appearance of being a really solid foundation for years to come.


For a daily driver, 553 would be excellent ...

Wouldn't have to worry about scuffing the paint or driving it in bad weather, because that's what he built the car to do.

The rebuilt engine has a fresh t-belt in it, and has been thoroughly broken in. The transmission shifts like butter, and there were no grumbles from the driveline on the test drive.

Overall, 553 gives every indication of being a very solid car, and twice the value of many cars in it's price range.

Before giving it my 100% endorsement, I would have to see the bottom of the car on a lift, (and I'd like to run a datalogger on it to make sure everything is up to snuff,) but by all appearances, 553/2000 is ready to go anywhere/anytime no matter the weather.

For a serious buyer, a more thorough examination can be performed for a small fee, ( to show you're serious and take care of the old man that runs the shop

)


As far as the "parts" car goes ...

1738/2000 took a light, high front shot that took out the radiator support and lightly crinkled the unibody. Fenders and hood are done, but it is definately repairable. I have definately seen worse brought back to life. He did use the left rear door on 553, so that will need to be replaced (damage looks to be 'bout the same height as the bumper of a certain Dodge work truck that's in the driveway

)

I have most of the parts needed to return this car to service, and will work with whoever buys the pair, as long as they return the car to service. It will take some work on the rack to straighten it out, and a new upper radiator support installed, but it has serious potential, just needs some love.

All in all, one of the best deals to hit the board so far this year.

Hope they find a good home, as clean/rust free/unhacked cars are getting harder and harder to find.