Joined

May 7, 2007
Messages

429
SixSixTwo's and DC_Style's brother here, with a VR-4 for sale. I recently bought this from DC_Style, my brother, who had bought it from Kevbo a few months back. I bought it with the intention of fixing the frame damage, but being 16, the capital needed to the finance the project soon ran short, which is the ONLY reason why I am getting rid of this car.
After taking it back to our place, we discovered that the water pump had gone out, and SixSixTwo and I replaced it with a NAPA OEM equivalant water pump and new serpentine belt. The last time we messed with it, it started, but had some rough idle issues we have yet to figure out. The car starts, but it is advised that you take it back on a trailer to solve the idle problem.
I never ended up getting quoted for a repair job on the frame, but I'm sure you could have it put in a frame and rack and have the core support straightened.
Car will not come with a front grille, because we inadventently ripped it off, or the Kenwood deck and boost/etc gauges in the center, there is currently a grant steering wheel on it right now that is not shown in the pictures, these pictures are from Kevbo's old sale thread.The valve cover has been replaced with a somewhat decent looking red shaved one.
The fact that the engine is a built block should be enough to consider the car, even if you don't keep it, you could keep the engine and part the rest. I simply do not want to deal with it.
You can drop me a PM, or call me at 1(612)801-7061.
Pictures from kevbo6204's sale thread:
Specs from Kevbo's thread:
ENGINE:
· Forged 8.3:1 Wiseco Pistons
· Bored .020
· Cometic MLS Head Gasket
· Reconditioned Stock Rods
· ARP Head Studs
· Lightly Ported Head
· Reconditioned Head (New Springs, Guides, Valve Job, etc)
· New Front Case (Oil Pump)
· Balance Shafts Removed
· Rebuilt 14B Turbo
· All New Bearings and Gaskets
· All New Timing Components
· Brand New Alternator
· Brand New NAPA Water Pump
PERFORMANCE:
· 1G Shifter
· Gasket Matched 1G Intake
· Gasket Matched 2G Exhaust Manifold
· Ported Turbine Housing and EVO 3 O2 Housing
· Custom 3" Turbo Back Exhaust with Magnaflow Muffler
· Boost, Oil Temperature, and Oil Pressure Auto Meter Gauges
Mounted in Dash
· Rewired Fuel Pump
· Rear Mounted Battery with Summit Racing Box
· Keydiver Stage III Chip
· Freshly Cleaned and Flowmatched 560CC EVO 8 Injectors
· 3G Mass Air Flow Sensor with Brand New KN Filter
REPLACED:
· Valve Cover Gasket
· All Radiator Hoses Replaced
· Throttle Body Cleaned and Seals Replaced
· Front Ball Joints
· Power Steering Pump and Rack
· Rear Brake Calipers and Brake Pads Around 140K
· All 4 Brake Rotors
· Parking Brake Cables
· Clutch Master Cylinder and Slave Cylinder
· Tires (Fuzion HRi) at 150K
SUSPENSION:
· 4WS Disabled - Equipped with Non 4WS Rack
· KYB GR2 Struts
·
MISC:
· Pioneer Speakers
· AC Disabled
6/19/09 - Compression Numbers! 157 - 160 - 162 - 160
6/22/09 - Front end pictures, some of the cloudy pictures are due to high humidity and my SLR's lens fogging. I found some extra parts for the VR-4 which I will throw in for the new owner, extra corner lights, headlights, and some etc.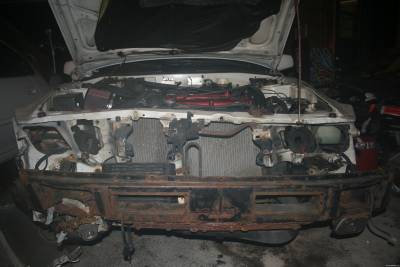 Last edited by a moderator: