Dear All
Lately, on several occassions, my car started sputtering after cranking, as if running on 2 cylinders. However, it stablized after few seconds. Now the problem is permanent. The car starts, sputters, and shut itself down. I looked at the transistor out towards the coil pack, there was output for only one coil. I checked the pulse signals coming from the ecu to the transistor in each of the two wires, only one wire had pulse output from ecu, the other is silent. The dead wire in pin No. 10 of the ecu i.e. IGN Amplifier A. The ecu is throwing good pulse at pin 23 i.e IGN Amplifier B.
I am running a evo-III setup. Here is the ecu pin out -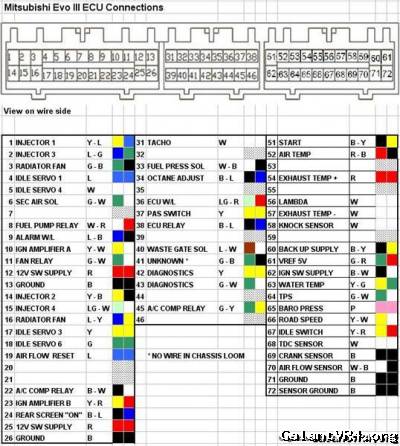 I have checked Pin 12, 13, 25, 26, 60, 62. All have good voltage/ ground.
What am I missing here? I think the CAS is working fine since i have spark at one pin No. 23. I also have fuel at the injectors since the car starts, sputters for sure since its running on 2 cylinders.
I think the next step is to open the ecu and try to find the cause in there.
Kindly let me know if I am missing something.