I've have this set of JDM projector fog lights for a few years now. I've been reluctant to install them since they are in perfect condition until I had some way of protecting them. My stock lights were so sand blasted and rock chipped from road debris, I didn't want to risk these getting messed up too. Well, I finally got my wish.
Lamin-x is a company that makes vinyl protection for headlights and fog lights, but does not offer anything pre-cut for Mitsubishi's. They mostly do European cars.
I bought a "universal" kit a while back and the results of trying to cut it myself were pretty ugly. If you've ever tried to cut this stuff in the shaped you need, you know what I mean.


I pulled that junk off and talked to the wife about possibly cutting some shapes with her plotter.
She was able to scan the lights and use the plotter to cut exactly what I needed. I now have perfectly protected fog lights.
The film is 12 mils thick and completely clear. You have to be right up on them to even see it.
They are still a bit wet from installing the film but I had to show them off.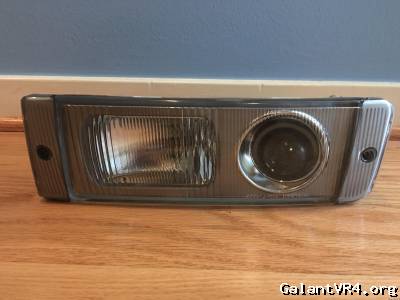 We also scanned a USDM fog light to make a couple sets for some friends.
Planning to make a template for my '93 headlights next!