I just had the valves adjusted and it didn't make a difference.

It is a 1991 Dodge Colt GL 1.5 liter 12 valve Automatic.
Manual steering, door locks and windows.
The last owner (a neighbor of mine) had the oil changed at Jiffy Lube on 03/20/2003 with 113,333miles which was right before the water pump went out and blew the headgasket. He parked it at his property with about 200 more miles on it since that oil change and I picked it up from him November 2009 (~9,500 in 8 years!). Now it has 150,XXX miles.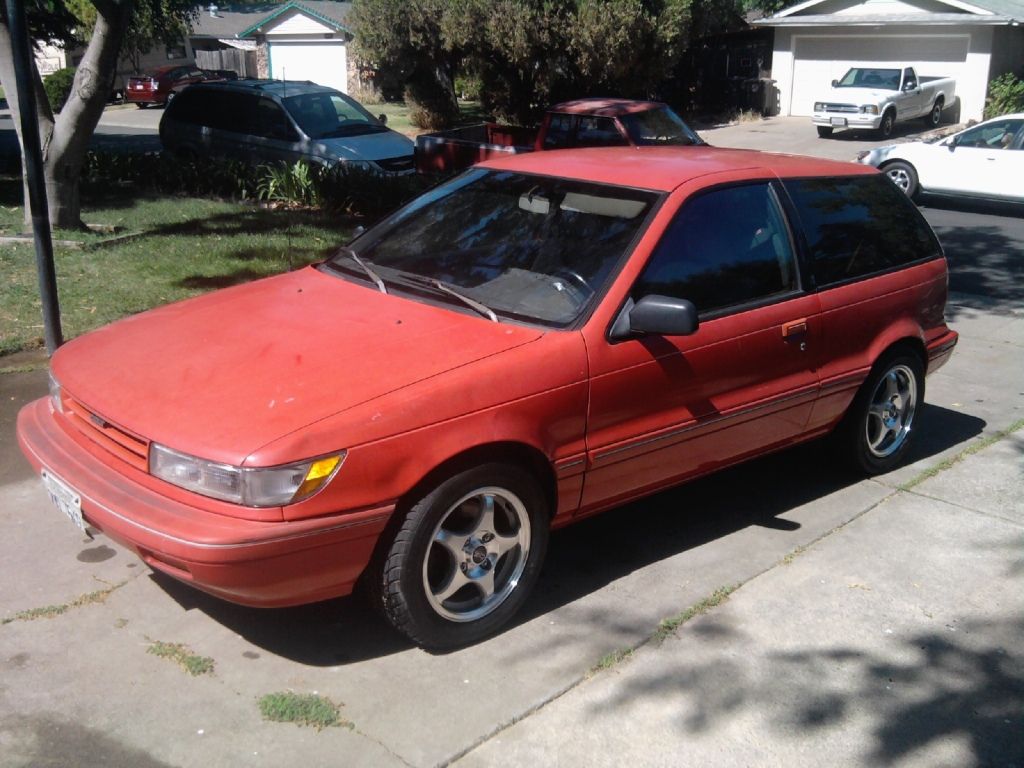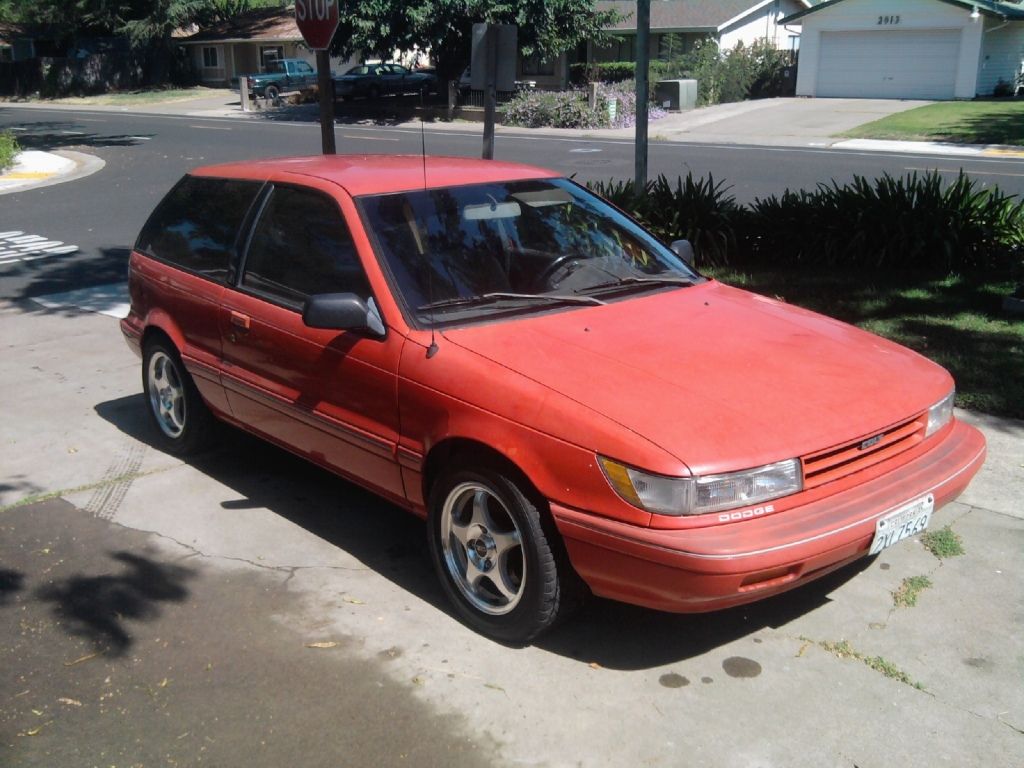 I broke the key off in the gas door lock, I have new one to replace it I just need to get it matched to the key before I install it.
Clean title in my name, registration is paid up and non operational status.
Won't smog because it has low compression on one cylinder.
(Previous rims I have had on the Colt):
When the OZ Rims were Red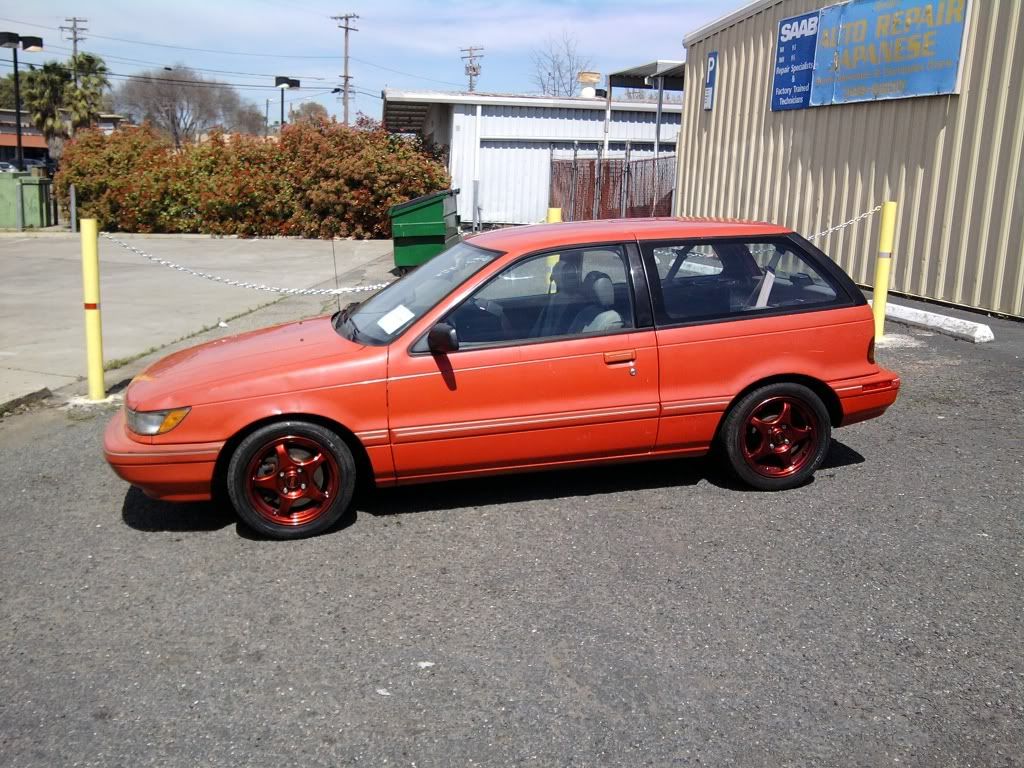 Stock Turbo Colt Rims
Stock Toyota Supra/Celica rims
Colt has been on trips from Sacramento to: Weed(North of Red Bluff), Concord(dozens of times), San Fransico(dozens of times)and to Yucca Valley/Joshua Tree/29Palms seven times..
The AC blows cold.

Stuff that has been replaced or upgraded:
New Head Gasket, Timing Belt, Water Pump, Thermostat, Valve Cover Gasket, Water Pump/Alternator and AC belt, Spark Plugs and Spark Plug Wires, Distributor Cap and Rotor.
It is runing Toyota Red Coolant in it, a 1G DSM K&N Air Filter and a stock 1G DSM alternator on. It has an Auto Zone battery and also I threw away the cracked cast exhaust manifold and replaced it with a tubular steel exhaust manifold and downpipe complete with heatshield from a newer Hyundai I found in a junk yard (I forget what year and model).
Engine oil pan and the tranny drain pan were removed, sandblasted and powdercoated black.
New transmission filter and gasket and a new oring on the speed sensor connector. Filled the trans back up with 3.5 quarts of brand new factory Hyundai SPIII Automantic transmission fuild at $9 a quart!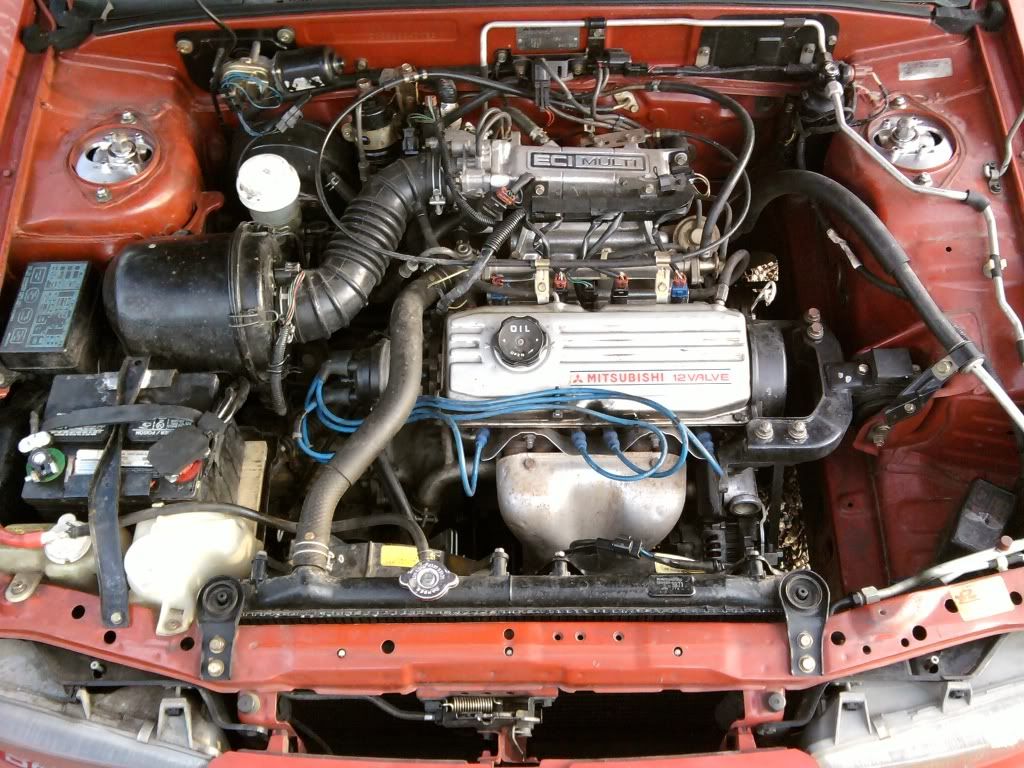 New front wheel bearings and wheel bearing seals, new left and right axels and new tie rod ends.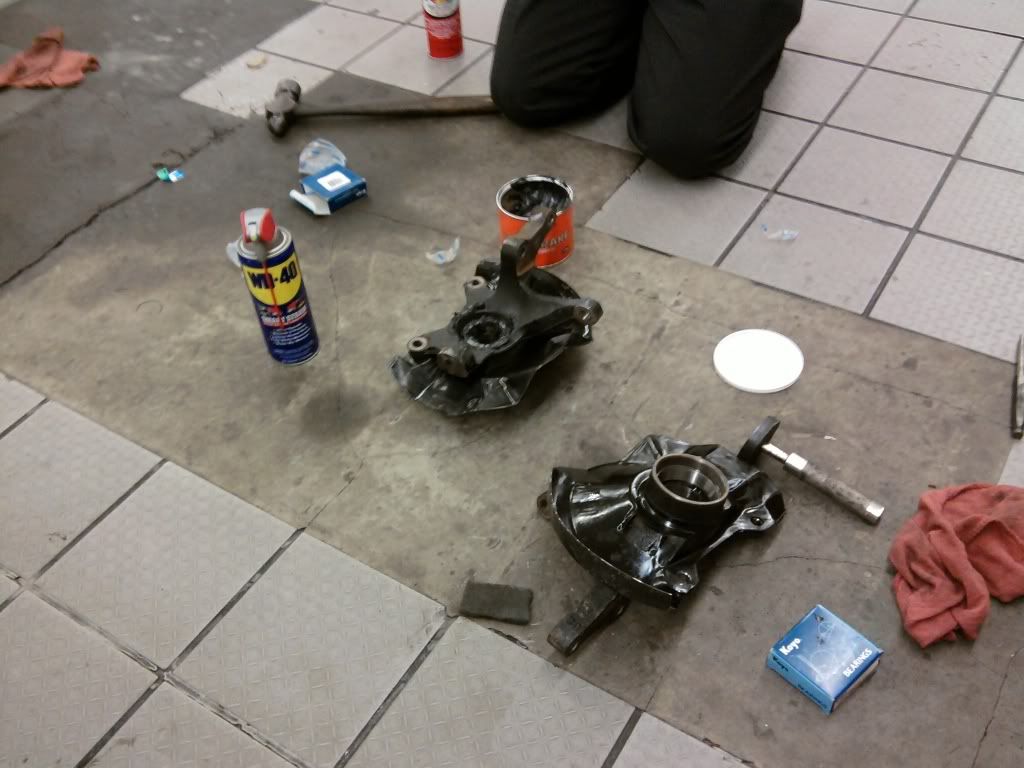 When I pressed out the hubs to replace the bearings I machined down the outside edge of them to run Galant VR4 front rotors and two piston calipers. I also machined a set of custom spacers to space the two piston calipers properly so the pads are centered with the rotors.
I replaced all the front wheel studs with new DSM ones because they are a little longer and important when you ditch the stock captured rotor setup.
I also installed custom made DOT Approved stainless braided teflon coated brake lines made for the fronts using blue tinted lines and red and blue ends for the hell of it along with a 1G DSM brake master cylinder to match the bigger front brakes with custom fittings for the remote brake fluid reservoir.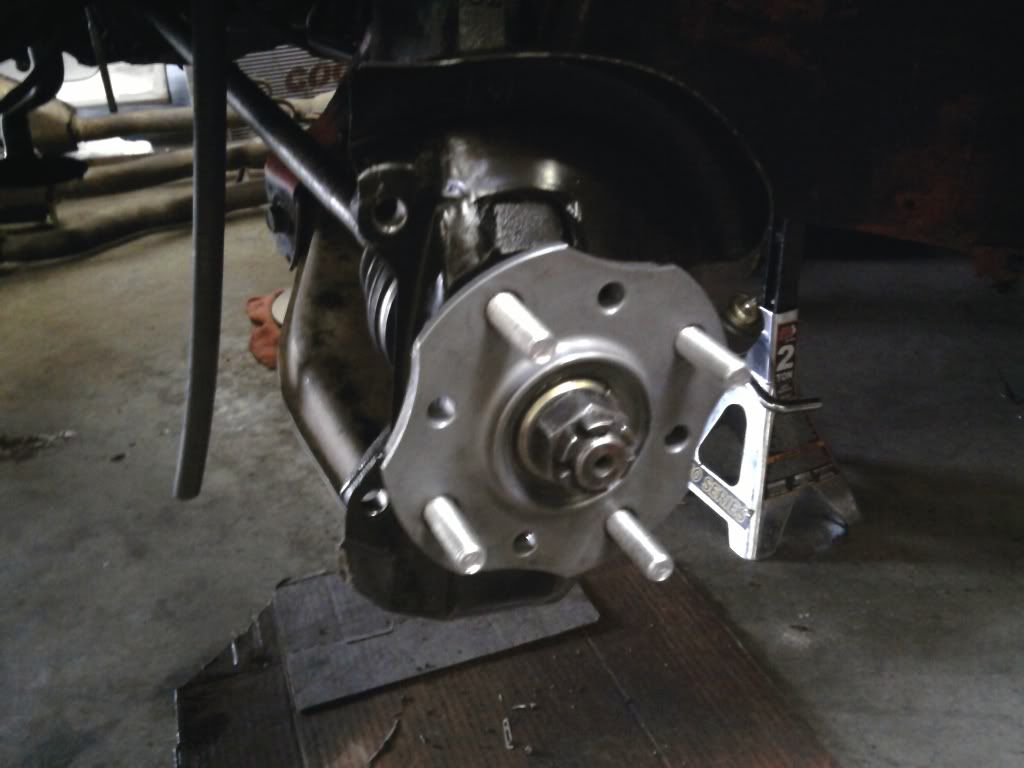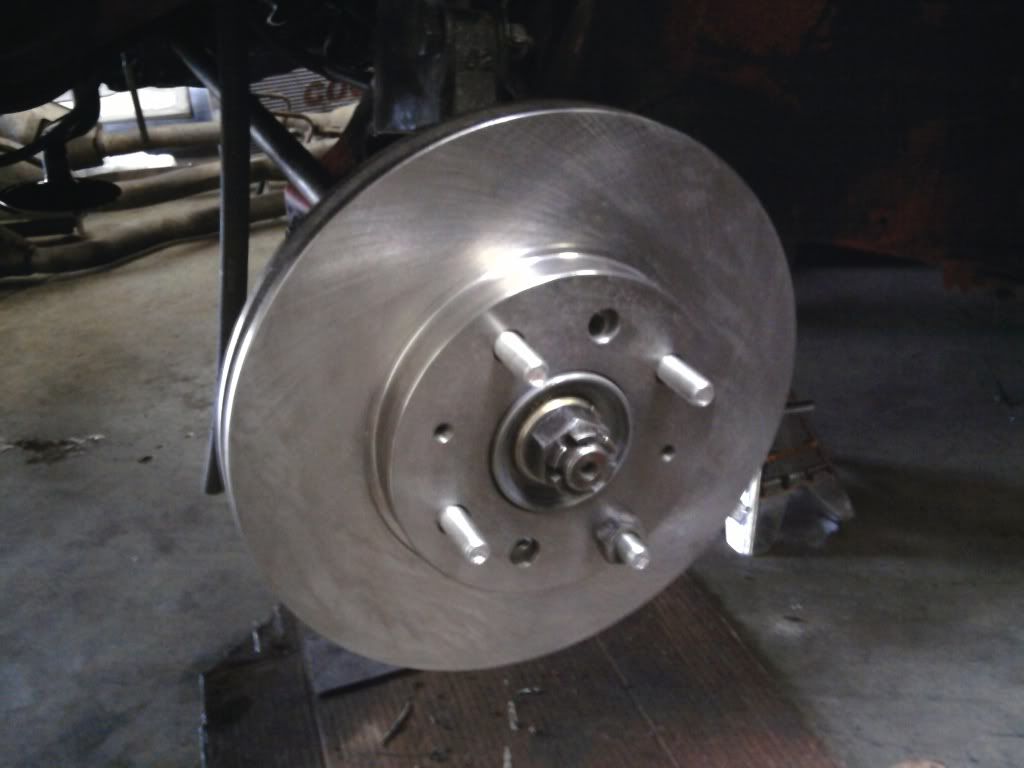 Front suspension is lowered with ground control coil over springs and perches on new KYB GR2 front shocks and the rear is lowered with stock 1G DSM AWD rear shocks and springs with modified stock lower shock mount bushings cut off of the Colts stock shocks.
It also comes with a new pair of newer Mitsubishi Mirage lower control arms, just need the newer Hyundai front sway bar upgrade to go with it.
The Colt handles extremely well and it still a very comfortable ride.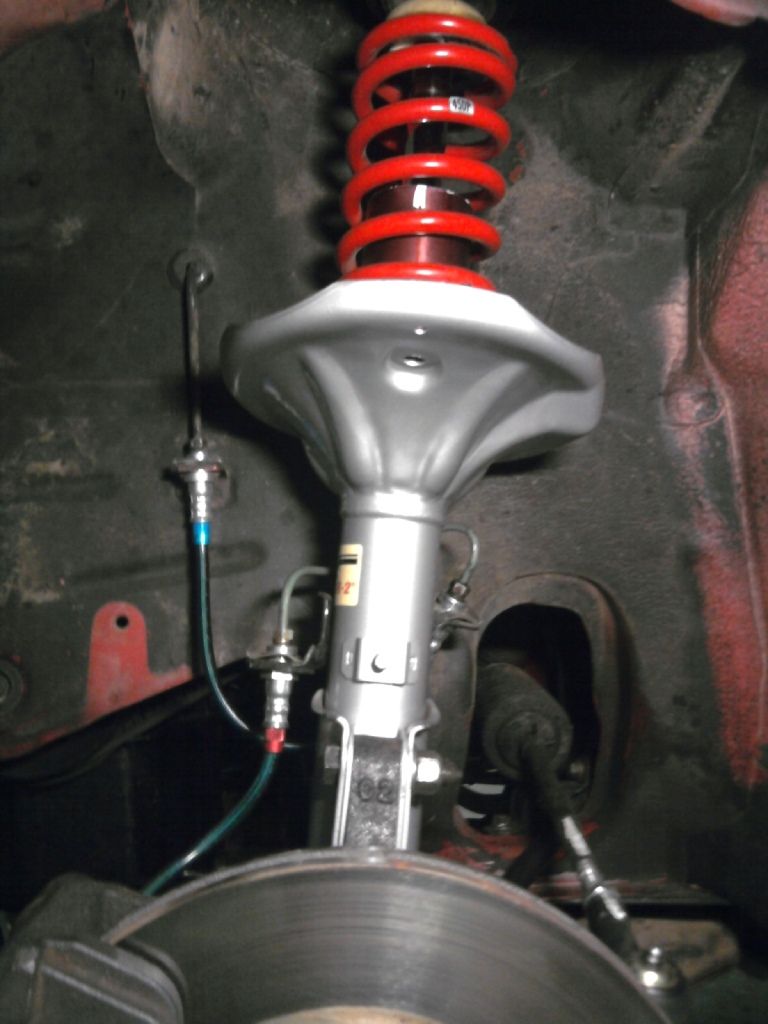 The interior is stock except for a steering wheel from a '93 Talon TSi.
The dash is very cracked now and the lower dash and cloumn cover are torn apart to remove the ignition cylinder to extract a broken key. That is done now but the interior was never put back together.
It has an old Pioneer MOSFET Head Unit and an aftermarket "universal" antenna along with "Fusion" Brand 6x9's in the rear in the stock location.
Also include is a complete stock antenna assembly I found in a junk yard and new OEM front speakers..

The front and rear fenders are rolled to installed a set of 25mm bolt on aluminum wheels spacers with OZ Racing 15x6.5(?)+36(?) offset rims from a 200X Mitsubishi Lancer OZ edition (I haven't had time to confirm the rim dimensions) Tires are 195/60-15.
The previous owner spray painted the rims with translucent red so over the course of a couple weeks I carefully stripped all the paint off which left them with a beautiful machined/polished finish. They need to be repolished after sitting so long.
All the windows were tinted with a lifetime warrantee but the tint has faded windows.
I will have that window retinted under the warrantee for the new owner.
It comes with a lot of the parts needed to do a 5 speed swap.
The shifter assembly, the clutch pedal assembly, the clutch hard line and rubber line, the slave cylinder and the Manual ECU.
What is needed to complete the manual swap is the shifter cables, transmission, clutch and flywheel..
Excellent 4G63T swap candidate or just a good fun daily driver.
If someone wants to fix it I will give it to them if they make a donation to galantvr4.org.
Delivery can also be arranged for a fair price.
PM me with interest.